"A Space and Time"
Pictures by Ayden Stoefen
I was nervous, battling second thoughts of even going. What if I dislike the work? What if I can't do what's required?
Life can be beautiful even if you don't feel completely comfortable, I tell myself. You can learn something no matter what. Life is about living the air you breathe, appreciating moments and being aware that you are alive.
At that moment though these thoughts didn't help me though. I still had to travel 30km from Dillsbury to Bull Bay, outside Kingston. It was Monday and I hadn't left early enough. The transit system is always crowded. And that day was no exception.
And so I arrived late to the building site. The place is hazy with construction dust dancing around in the wind, bustling with movement and sound. A beautiful orchestration, with or without a conductor. Huh, I think to myself, so this will be my home for the next eight weeks.
I started skating at the beginning of 2018. I'm 21 years old and from Spanish Town, Jamaica. My name is Kayla Wheeler and I'm a skateboarder.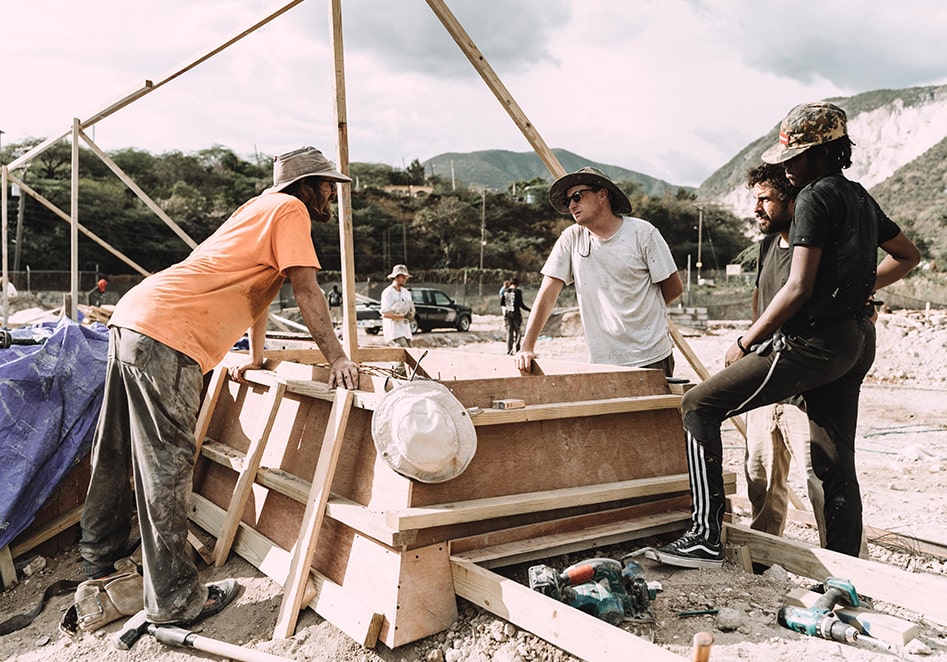 I became aware of The Freedom Skatepark Project when Harry from Concrete Jungle Foundation and Will from Flipping Youth contacted me about a project I was doing at The University of the West Indies (UWI). We had been trying to get a concrete bowl built on the grounds, and while we had fundraised for it and started construction, the university management ultimately shut down the project.
Remy [from Paris Skate Culture] was the main international actor involved with the UWI bowl, and in seeing the Freedom project about to take off, he decided to sponsor housing for me right in Bull Bay for the duration of this new project.
When I arrived on the first day in Bull Bay on March 2nd, 2020 I had no confidence in my choice to be involved in Concrete Jungle Foundation's apprenticeship programme, especially because I was doing so without the support of my parents. But here I was, a part of a group of 25 international volunteers and 5 other local apprentices.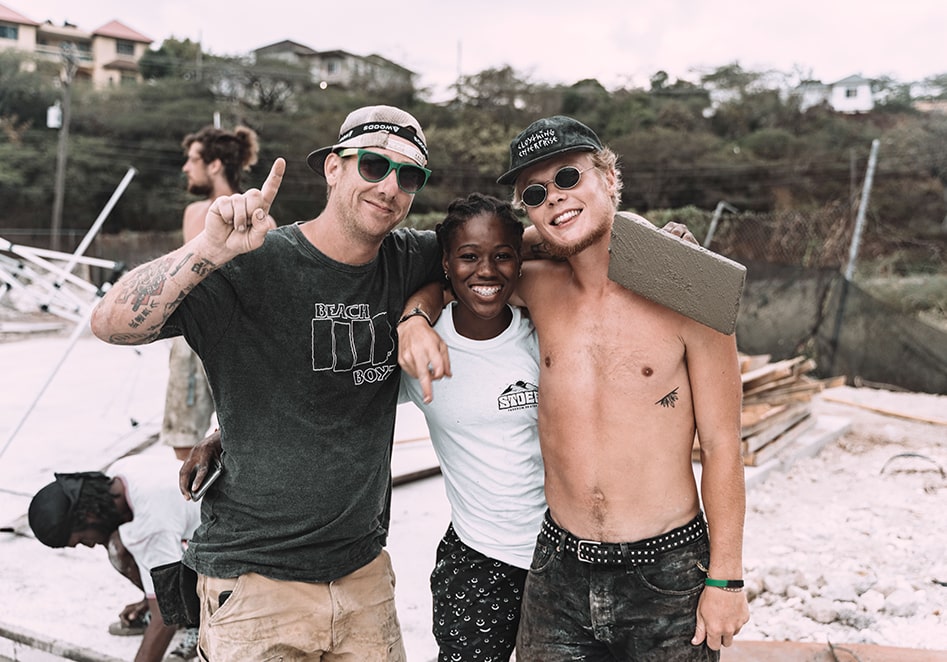 My respect goes out to Concrete Jungle Foundation for providing such an opportunity. The seven weeks on the ground in Bull Bay were extremely hard work. But as an apprentice during the build I was given the opportunity to learn skatepark construction skills while getting paid to support myself throughout the process.
Perhaps even more valuable, however, was the opportunity to meet and connect with all the other skateboarders from over the world. Discussions from those days will stay with me for the rest of my life.
I remember seeing Tom [Critchley], one of the international volunteers from Zaatari Radio, writing the text 'FREE THE MICE' everywhere, and I was like 'what's that all about Tom'? He replied something like 'Kayla, it's about not giving them a hard time for just being their biological selves. They're not much different from you and me. They're just doing their own thing, and they don't deserve all the hate.'
Ben Daeleman from Jean Jaques was also there helping to build (he and Sam and the Finnish girls built the Turtle). I felt like he just saw right through me. We spoke quite a few times, you know really spoke. He figured I was on the search and never really found a place or a spot to fit in. But that now I'd found a place in the world where I belonged, and that was right here, in skateboarding. Thanks for distributing smiles Ben :)
It's funny, this thing we call skateboarding. Like a big family, perhaps worlds apart but all rooted to the same beautiful tree. The tree of growth, self-improvement, perseverance. A family tree.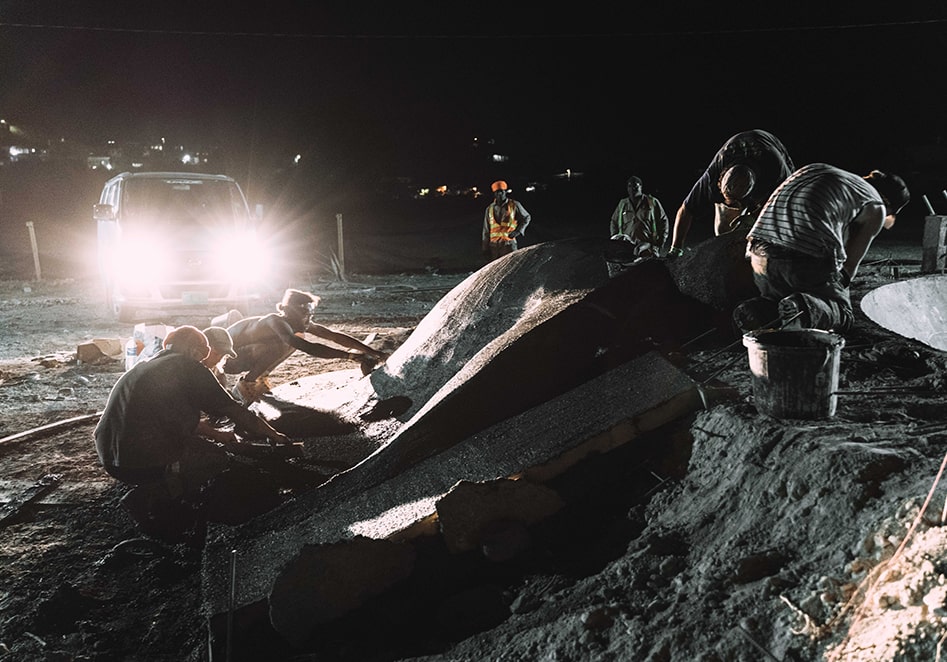 Another incredibly valuable aspect of this experience was the opportunity to meet other women skaters. For a long, long time I was the only female skateboarder in the Kingston area and before the project I hadn't had the chance to meet many other female skaters at all, except through social media.
During the project each of the local apprentices got assigned to a professional builder, and for me, I was paired up with Lisa Jacob from Forever Playground. I had heard a lot about her before she arrived, mainly because the CJF Team was hyping up the fact that we'd get the chance to work together. The hype was warranted!
Lisa is from France, Paris to be exact - Eiffel Tower. She's incredible. It was clear that she knew what she came to Jamaica for and it was the only thing she focused on. She was always on point. The word 'dedication' is too insufficient to describe how driven she was to complete her tasks. I was impressed day in day out. She's an awesome person to be around. One of those beautiful souls you would just want to sit next to, listening to her speak.
Covid-19 hit the island a week or two into the project. And Bull Bay, almost unbelievably, was ground zero for the outbreak and so locked down for weeks. The situation was no joke. It caused a lot of emotional stress on-site and amongst the crew. Airlines started shutting down and cancelling the volunteers' flights, so some were forced to book same-day tickets and simply take off mid-project with a day's notice. Others got sent home by their employers or families. We lost a lot of skilled builders which was tough. Local businesses also closed so we couldn't get concrete and other materials for days. But of course we managed in the end.
In the later days of the project I'm happy that we had people like Remy and Ben [Greame] on the ground who had the resources and facilities to take us out on day trips. We went street skating in Kingston a few times. Remy sponsored a big bus to take pretty much all Kingston skaters to Portland for a day. And Ben took us to his farm as well as swimming to a lagoon. Thank you so much for that! We really needed the break.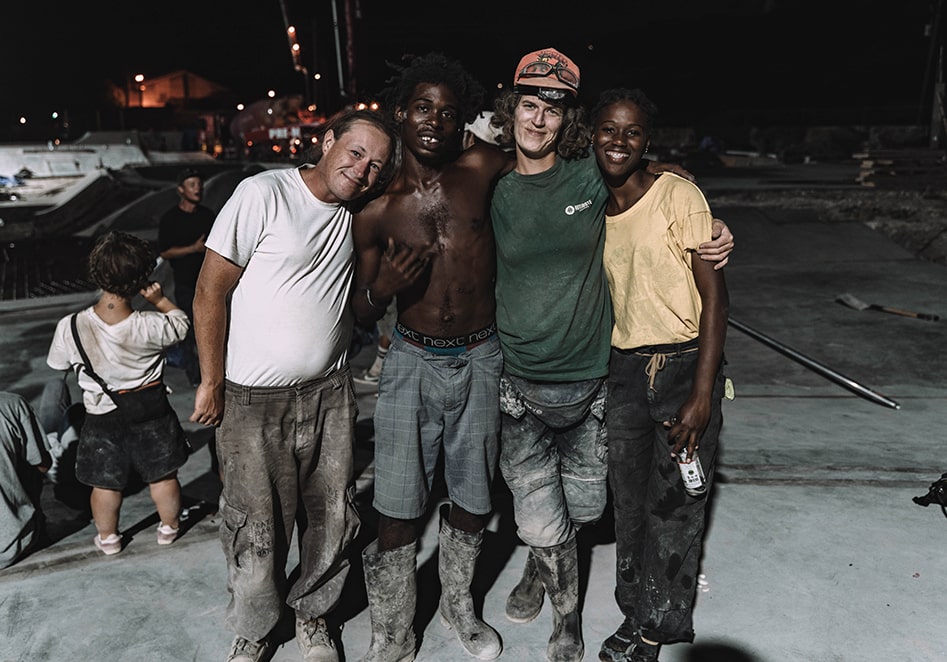 We ate lunch every day at Jamnesia Surf Camp, where the owner and musician Billy Mystic was mixing his new track 'Space and Time'. Every single day we'd hear the song on repeat. The chorus soon etched into each of us, and through singing along, it turned into the theme song for this shared chapter in our lives.
The beauty of the song was that it was played in a time when everyone really resonated with the words. The park, the people, the situation with Covid-19, the project. This was truly a place and time to be alive. And the memories, lessons and friendships from those weeks will stay with me forever, like the Space and Time in which they took place.
Thanks guys.
Kayla Wheeler