Building, learning and sharing skateboarding in South America
Interview with Pierre Jambé from Antidote Skateparks
Antidote is a French company committed to community and rooted in the DIY mindset. And while the company itself is pretty young, the guys behind it have been involved in builds all around the world for decades. In fact, Pierre the co-founde was building skateparks in Peru, Bolivia and Brazil back before CJF existed.
We sat down with the man behind Peru's first cradle to discuss his experience working in South America, the skatepark construction scene there, how Antidote came to be and what's valuable in life.
Thanks Pierre. Thanks for everything you have and continue to do for skateboarding.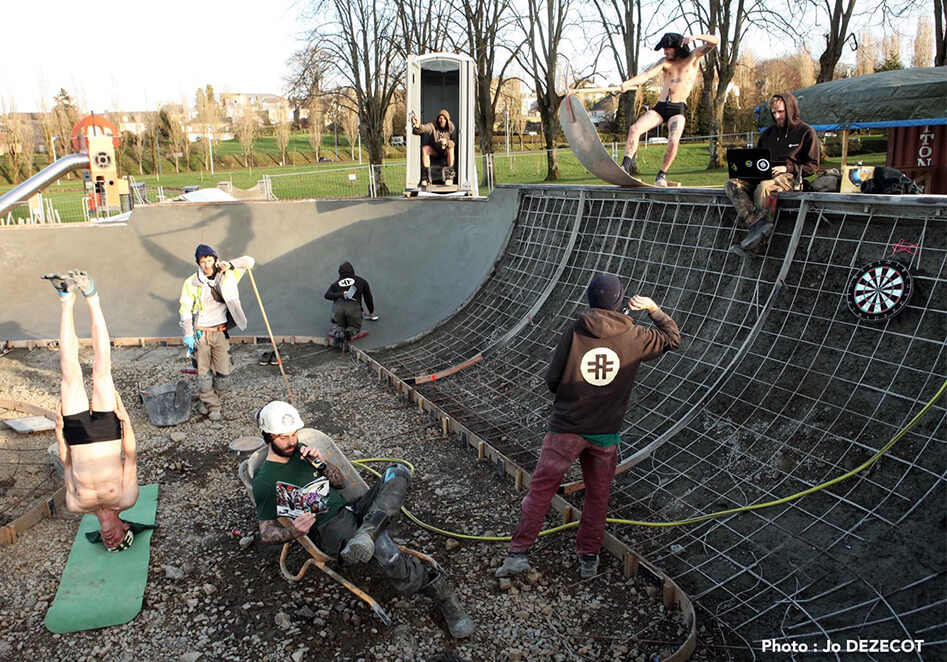 Hi Pierre, stoked to sit down and talk skateboarding with you! For the people who may not know you, would you please introduce yourself?
Hello! My name is Pierre Jambé, I'm 53, I started skateboaring around 1977 in Belgium. I lived in São Paulo Brasil in 1986, and in Ayacucho, Perú from 2008 to 2016. At this moment I live in Belgium and work in Belgium and in France.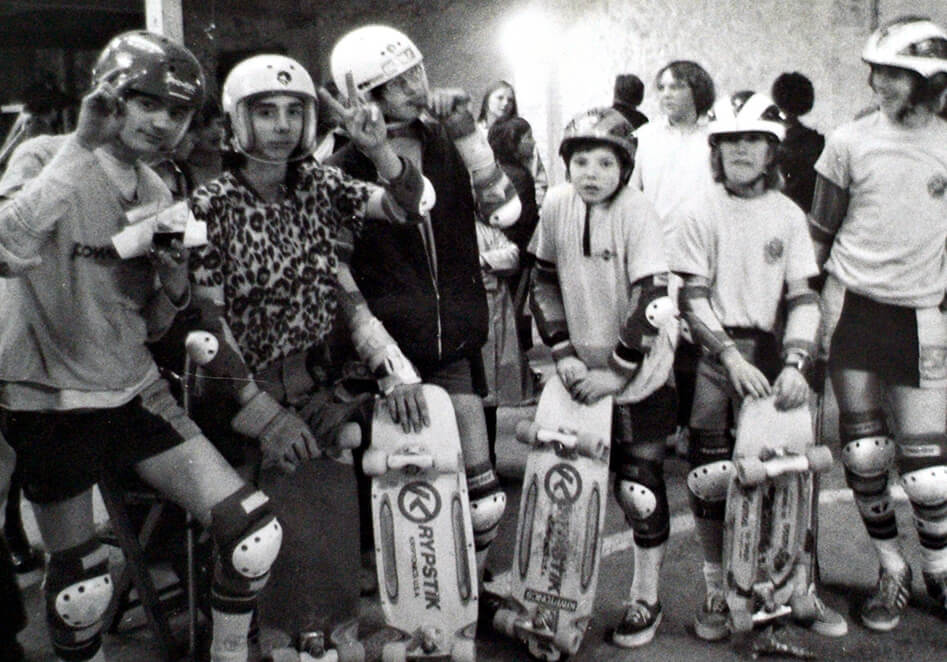 Pierre Jambé in Skatepark Couvin 1981, Belgium (2nd from right to left)
Peru
Some may say you have changed Peru's skateboarding landscape, what's your reaction on this?
I've also been told I changed Brasil's and I actively participated in that change in Western Europe. All this for just travelling and doing my job, hahaha. Sometimes you're at the right place at the right moment, I'm grateful about it. In the 2000's, many skaters in the world would look at Burnside and the first concrete skateparks in Oregon. It represented everything one would dream of: building your own skatepark out of concrete. I learned how to do it and then teached it where I was living and working.
How did it all start?
Long story short, I started to design and build concrete spots in Belgium with a group called Collectif BRUSK, and started working on skateparks. In 2008, I traveled to Peru to build a diy bowl in Ayacucho. I met my wife, decided to live there, without any hope to keep on working in the skateboarding area. In 2011 I was asked by the city Ayacucho to take care of a skatepark project and got back in the business. I had a good knowledge of skateparks building so I applied it there. The next year, I was contacted to design and build a skatepark for Converse in Lima. After that I took the name Doctor Skatepark and try to make a living out of it.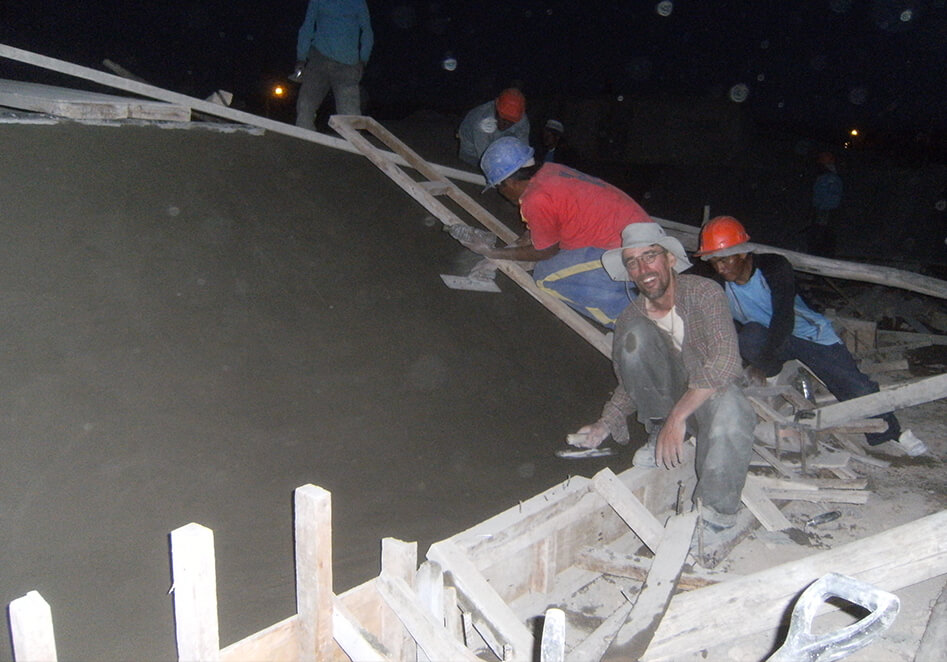 Pierre Jambé in Ayacucho, Peru
You mentioned the Ayacucho project, could you tell me more about it?
A city councillor imagined creating a huge public park with different infrastructures, and one of them was a 2000m2 skatepark. They just had a kind of a plan that was used for the construction licence and had no clue about anything else. I wasn't skateboarding a lot at the time, and had few contacts with skaters, so I had to make it by myself and improvise a design for such a big piece! When the construction started, I realized that if I wanted the skatepark to be built properly, so I stayed there everyday, learning autocad with the topography of the construction site, annoying the engineer and the workers to have things done right. I actually would get paid for the design, and for some advice during the building, but nothing as a fulltime job. At the start, the engineers and architects considered me as a clown, they didn't understand why I was present all the time, always checking the work, but when the forms started to appear, we had a meeting and they asked me to create something big, visible, and original. This is how I decided to place a cradle there!
The construction lasted 6 months, a lot of the work was done by hand, like detailed shaping of the dirt, and all concrete was done with two 400L concrete mixers, one of them being down most of the time, and wheelbarrows. There were 45 workers at some point on the worksite. That was a huge change for me, as I had worked mainly on pro constructions, with concrete trucks and pumps...
The result changed things in Peru mainly because I made sure they would apply the polishing technique of the skateparks, while skateparks there were always made with the burnt cement technique, which creates a thin layer of cement on the surface that is fragile, slippery, and doesn't last. I also made sure all the trannies, and banks were shaped right which was a hit, compared to the existing skateparks. One of the reasons people looked at that skatepark as an example is because I put in there all my crazy ideas, designed it as a big snake run with all types of heights, banks, trannies, and a closed bowl. There are a lot of weird elements but the whole park is really great fun!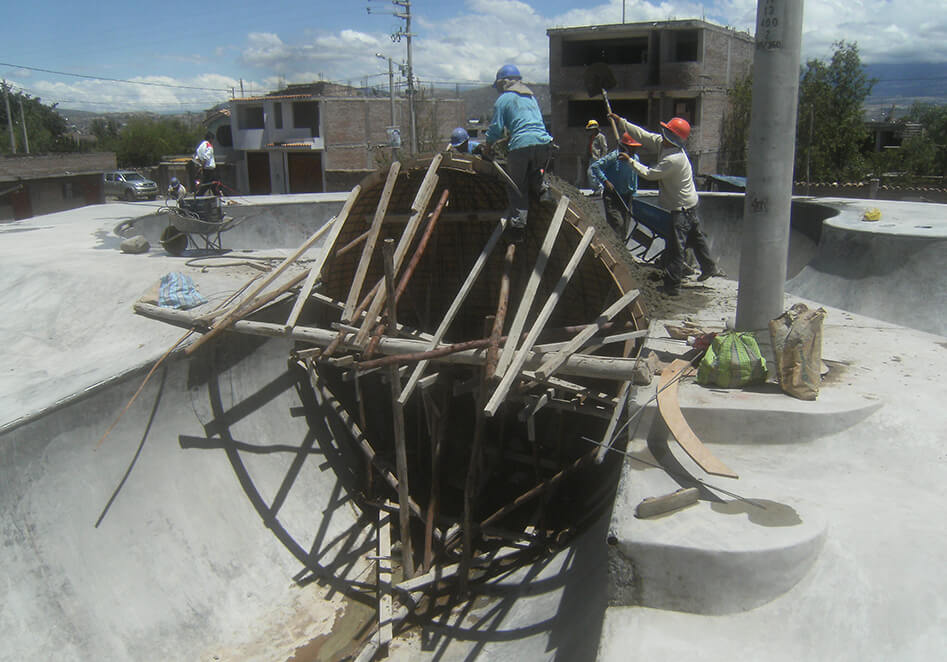 Ayacucho, Peru
What did you learn from those years working in Peru?
I actually grew as a professional working in Peru. I always liked the idea of coordinating a whole construction, but never had to handle everything by myself, so I had to learn it there. I also learned to make my work visible. I always loved to put people together, share knowledge, but there I had to create my own pattern, and make it fit to the reality there, which is much harder than in Europe, in the sense that society is more divided, and you have to fight to make your way. In the construction area, it's really hard to defend your work in terms of quality and price. One of the things I defended most is that skatepark buildings need high quality standards and specialized workers, and the corresponding price.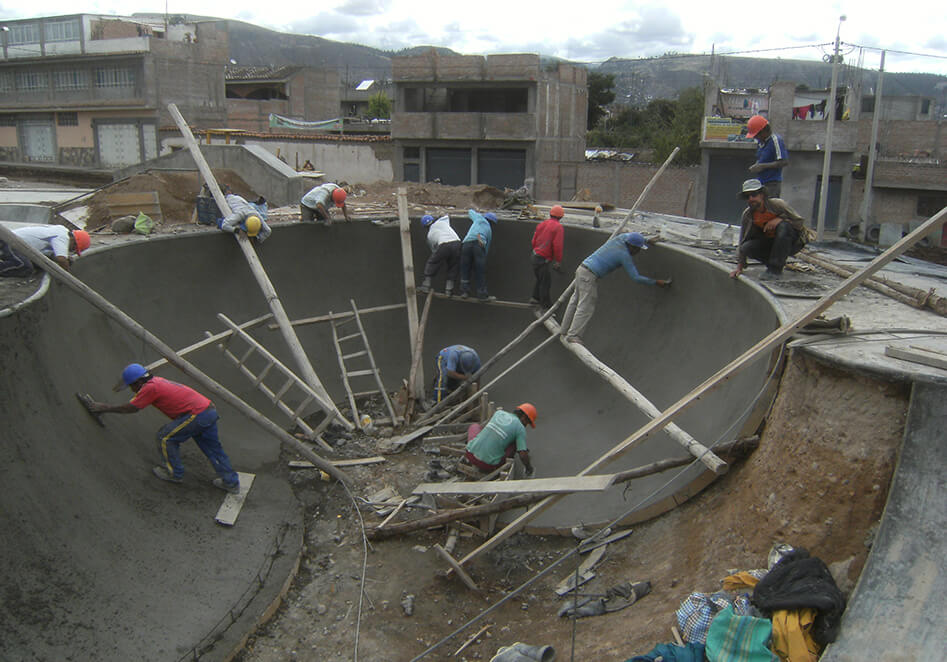 Ayacucho, Peru
What is your favorite skate spot (or skatepark) in Peru?
No doubt that it's San borja's skatepark, the one I built for Converse, but it's a really personal choice: The bowl there is the biggest I ever built, it was the first skatepark built by skaters in Peru, it's a living place, that has a bowlriding school, so many things started from there...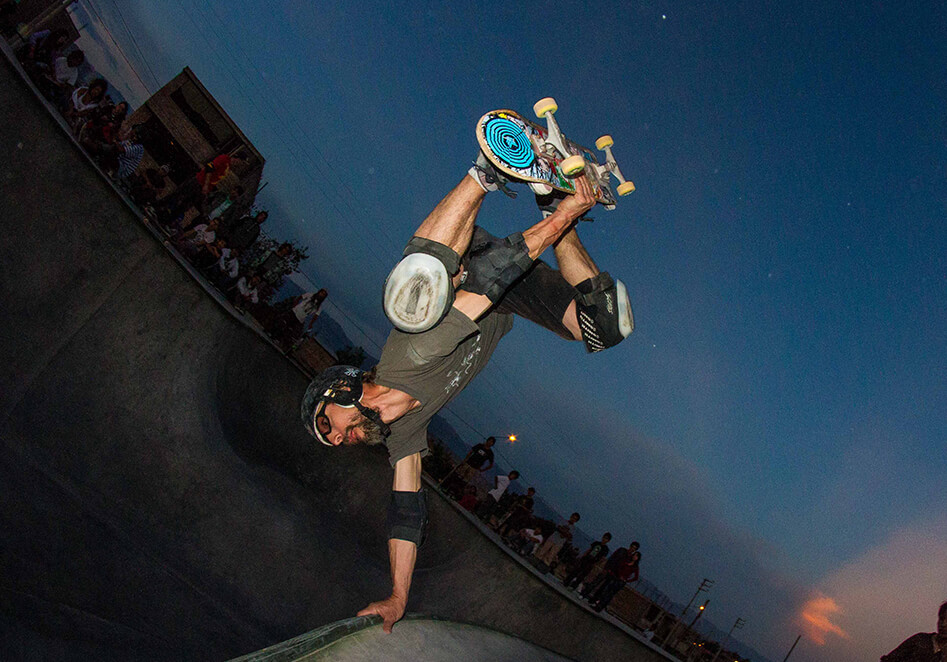 Picture by Gonzalo Noriega
What do you think is needed to have more skateparks in the provinces from Perú considering that it is a country very centralized in its capital?
One of the consequences of the centralization is that it's hard to have people in provinces considering they can think on their own and develop their own knowledge and initiatives. One of the most interesting things these days in skateboarding is that any skater anywhere can grab a bag of concrete and start building his own diy. Last year, kids in Ayacucho built their own mini ramp. It took almost 10 years to have locals think they can do it by themselves, which also shows how things are sometimes slower in provinces...
Maybe as a consequence of this, urban development is very basic in provinces. One of the best projects I was involved in is the design of a public square that had to be a skate spot, in Andahuaylas. The project was developed by creative enthusiast local architects. Provinces need more of that!
Traveling helps a lot, though. Either when someone goes to province, or travels from province to anywhere else, knowledge is being shared and new projects will emerge.
What feelings come to you when you look back and think about that time of your work and your life in Peru? Don´t you feel like you planted a seed?
Planting that kind of seed is actually my general state of mind. I studied education, and always worked sharing knowledge. The first mini-ramp I built was organized as a workshop. The first concrete skateparks I built were diy (we organized them with BRUSK as workshops too). On the first skatepark I built as a pro, in Namur, Belgium, I gathered the people who worked best and I suggested that two workers had to be people without any knowledge, and interested to be trained on site. In San Borja, I trained a whole team of skaters. In Ventanilla, we had four workers from Colombia that I met in Purapura, who now struggle to work as professionals under the name Bog Skateramps. These guys are still at work today, with their own company, Craftsman Skateparks. Same in Brazil, I trained the team of the company Rio Ramp Design. I imagine it's part of me, somehow.
South America
You have solidified the network of builders in South America, how did you make this happen?
I actually had no intention to do so! It happened thanks to the Purapura skatepark project, in La Paz, Bolivia, in 2014: Arne Hillens from Make Life Skate Life contacted me, because I was in Peru, and guessing I had some contacts with skaters in South America that would be interested in working as volunteers on the project. When I worked as Doctor Skateparks, I communicated a lot on Facebook, and different people got in touch with me, asking me how to build skateparks. After Arne contacted me, I transferred the information to all the people I had been in touch with, from Peru, Brazil, Chile, Ecuador, Colombia and even Mexico I think. Many people showed up, met, and are still in touch today. It changed the game.
After Purapura, the columbians stayed in Lima and worked with my team to build. One of MLSL projects, in Mare Favela, Rio de Janeiro, was actually coordinated by Sylvio, from Rio Ramps, and some colombian workers were there as volunteers. All these got to know each other in Purapura...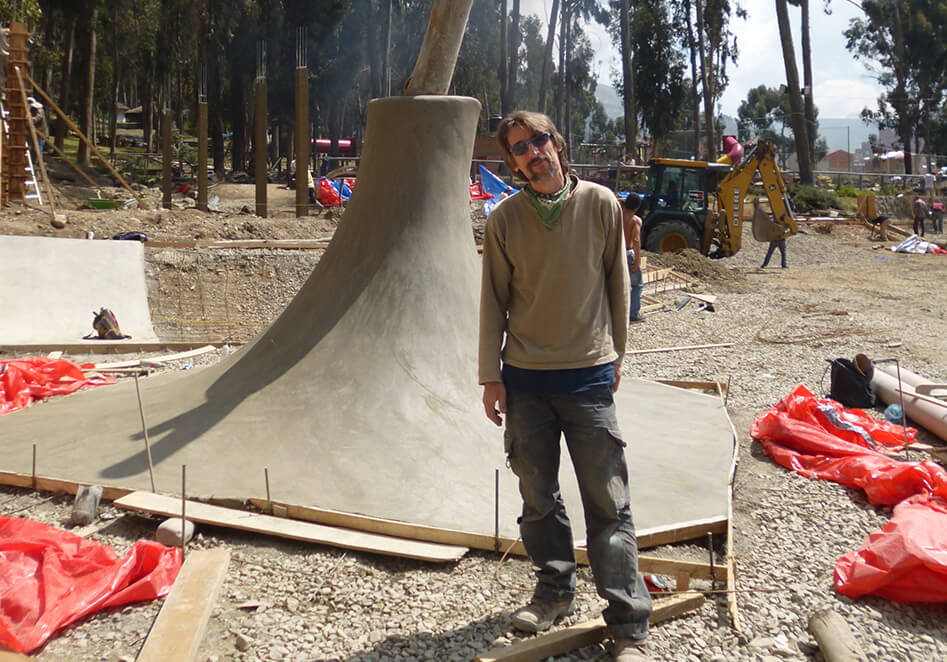 Pura Pura, Bolivia
Could you tell us an anecdote about your work in South America?
When I started designing the skatepark in San Borja, with the deep bowl in it, one of my goals was to bring the shotcrete technique on the worksite, which would allow me to build skateparks faster, and better. We started looking for a rental pump but couldn't find one. The odd thing about that is that there's a lot of shotcrete in Peru, because of the mining, but all the pumps are owned by mining companies, based in the high mountains.
Anyway, my associate finally found a pump for rent, which unfortunately was a dry shotcrete pump, which is smaller, but only allows you to shoot a very specific concrete that would be expensive to get. We told them we couldn't work with that pump, so they brought us another one, an electric engine shotcrete pump, which was the right machine, but didn't have the right hoses, and actually never worked properly. As we had to pay the amount of the rental before getting the pump, we told the guys to take the pump back and to give us the money back, but they had already spent the money, so we kept the pump but still couldn't shoot.
We then actually built the whole skatepark with concrete trucks, but placing the concrete with the hands, including in the 3,40m deep bowl. Some days we would finish to PLACE the concrete at 4-5pm! I never would have imagined that this was possible!!! I had put so much ambition in that project, the team totally shared it and never gave up, they were so motivated, and we ended up building the whole skatepark with such an incredible level of quality! This is a one-time-in-life experience, and is somehow representative of what I experienced in Peru as a European: things sometimes seem disorganized, messy, but the people have a real faith in making things happen! I feel so grateful about that!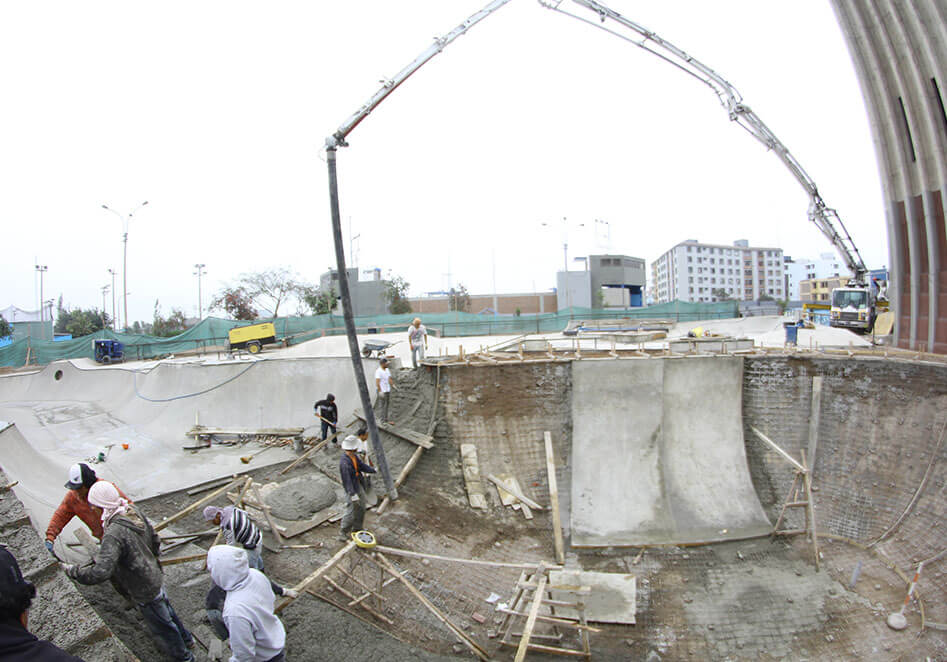 San Borja, Peru
Antidote Skateparks
How does Antidote Skateparks work? If you could tell us more about the vision of the company.
Antidote Skateparks is a workers cooperative company, which means that the salaries workers are the actual shareholders of the company, in a 1 person 1 vote repartition of the decisions making. It's impossible for shareholders who aren't salaries workers to empower the company for their own profit.
Could you tell me more about Antidote's design process?
When we start designing, we try to have as many people from the company implied in the process. We create a workgroup and check all the steps of the design with the whole team if possible. In most of our projects, we also try to have the local riders participating. In that case, we can have from one to three meetings with the locals, checking all the details of the design of the skatepark.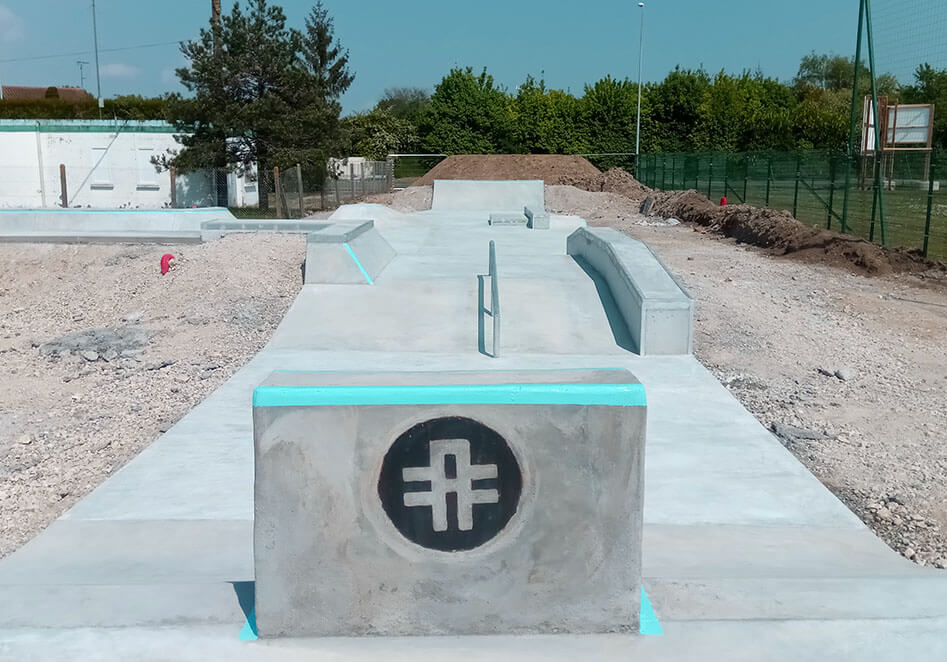 How is it to work with municipalities and local skateboarders, does one influence the other?
When I started working, our main example was that of Dreamland Skateparks, who would get somewhere and build a huge rad bowl even if the locals just wanted a basic skatepark! When you're working with municipalities you have to accept that in most cases, your skatepark will be a regular, allround skatepark – which is a good thing. But local riders are super important because they're the ones who will allow you to create fantasy, suggest special, original pieces, and finally they will be of great support if you take the time to share your ideas with them.
The municipalities expect you to design the park for them, but they don't have a clue of what a good skatepark can be. So, the local riders will actually be the real people who will validate your company, your skatepark design as a good choice for their city. They're the ones who will be able to qualify your work, share the opinions about other skateparks you built, etc. If you think of a skatepark as a user-oriented object, they're the most important actors in a project, which doesn't mean you have a know-how and can guide their choices.
Your support to the Peru Project, what does it mean to you and the company?
Aside from our own interest in your activities, we actually follow your projects closely, as various of your volunteers have been working on our skateparks! Camille, Lisa, Leo, Elliot, etc. The support to the peruvian project was actually more of a timelapse coincidence than a real interest for this particular project, but of course it means more to me than to my associates. By the way, I bought my tickets to Peru for this summer, which means I'll probably have the opportunity to show up on the construction and give a hand!
One of the things that was highlighted by our whole team is the educational aspect of the project. I heard several comments about the importance everyone was giving to the work you've been doing on site, with the local skaters and how they grew learning how to manage it as their own project.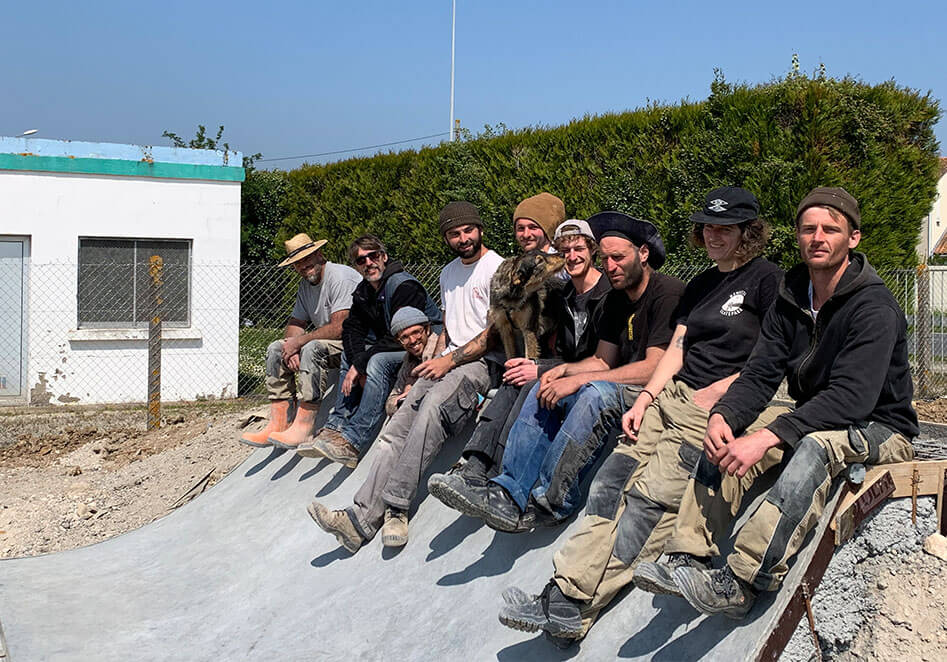 You
What would be your "dream" skatepark and why?
At this moment I'm really dreaming of a skatepark that would grow as the result of a constant teaching activity, where different people could learn to design and build and convert their training in an always growing facility. Educational diy? Hahaha!
Time to reflect: Based on your current experience and the work you are doing with Antidote, is there anything you would have done differently in the past?
The main concern I have about doing things differently has to do with how your social environment pushes you to do this or that. It's only when I was 40 that I had the opportunity to realize how much I loved working on a construction field, while I was suggested to study university – letters and arts!
What I want to say is that manual skills and labours have been undervalued for my generation, while studying at the university was considered as a kind of a salvation in life. I would have loved to realize that when I was in my 20's... It doesn't make me feel bad, though, and I'm totally grateful with everything I learned studying, and how it helped me in many ways, but I feel it's really important in my work to put manual and intellectual work on the same level, and give access to decision-making to everyone.
Thank you Pierre