Over 5 years of changing lives with CJF Edu-Skate
Words by Sita Narayan-Dinanauth & Tim van Asdonck
Pictures by Clément Taquet & Gregoire Delevacque
In 2017, Peruvian children who had never seen a skateboard before were given one for the first time thanks to the Concrete Jungle Foundation's Edu-Skate Programme. Now, some of them are shredding the local streets. The Foundation's work – to build skateparks and introduce educational skateboarding programmes to some of the most isolated and culturally diverse communities in the world – has been a success for 5 years.
"None of the kids knew what skateboarding was. Alto-Trujillo, where we built the first skatepark, was in a really remote place on the outskirts of the city. They're pretty isolated and they didn't have an opportunity to move around, it wasn't a rich area and they weren't exposed to a lot of things."
Tim van Asdonck, a lifelong skateboarder and the Director of the global Concrete Jungle Foundation (CJF) Edu-Skate Programme, is humble about being the first one to teach them an activity that offered endless creativity and physical exercise.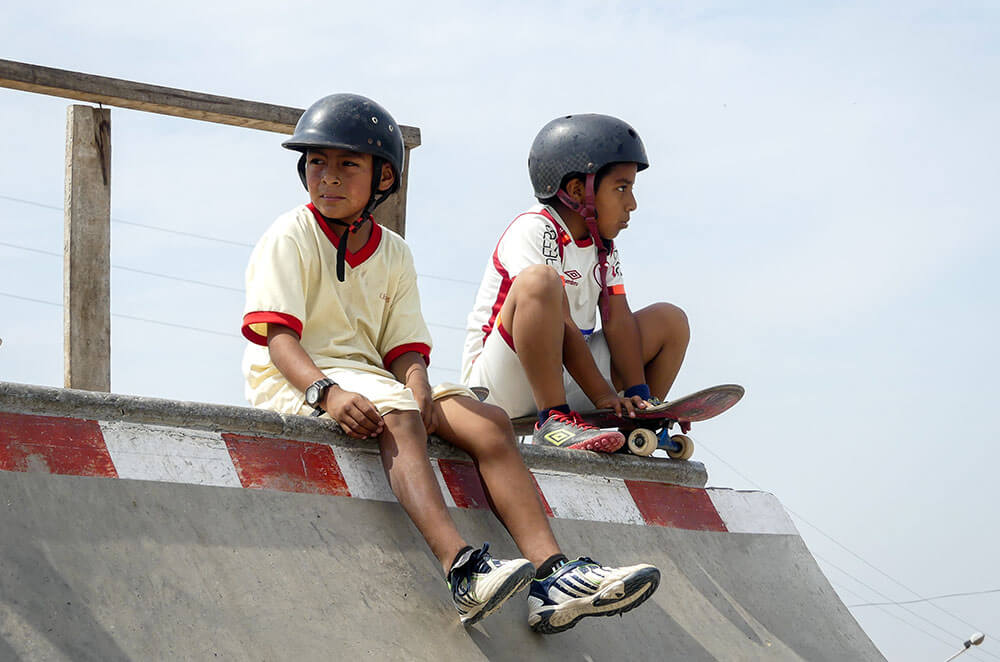 Two students sitting on the Alto Trujillo quarter pipe (2017)
"I saw it as a positive platform for youth. We started working in places where there wasn't necessarily a skatepark or a skate culture already formed. It was a creative way to bring something to those kids that they needed. It wasn't necessarily 'skateboarding is the answer', it was that skateboarding was the door to things these kids were not receiving in their general life and that was something we saw the skatepark and Edu-Skate could provide for them."
Edu-skate is a season of skate classes integrated into the local school curriculum and has been running for 5 years. With one Edu-Skate season running for 3 months, CJF have achieved 11 seasons in Peru, 8 seasons in Jamaica, 3 seasons in Austria (with Skateboard Club Vienna), 2 seasons in Greece (with Free Movement Skateboarding) and 1 season in Morocco and Angola by 2022. CJF works with local schools and NGO's to provide a safe space for the children to learn and incorporate skateboarding into the local curriculum. Teaching students life skills through skateboarding is a real focus and thus is done through workshops, group discussions, field trips, contests and community activities.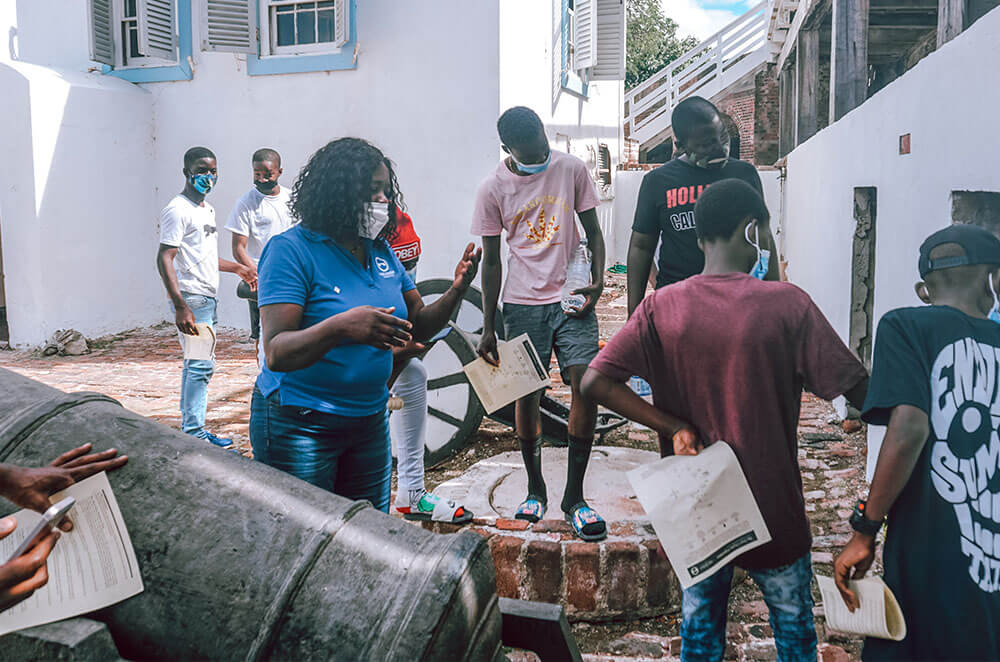 Visit to the Fort Charles Museum in Port Royal, Jamaica (2022)
"It was crazy that the Director of the school said, 'Go for it. I trust you guys.'"
It's easy to see why local directors and teachers would trust Tim and the CJF crew, they're all skateboarders and are all keen to promote the sport through the lens of positivity. How did the teachers feel it turned out?
"The way it was framed really helped – like something positive, something educational, something that's part of the school. The kids found it super fun because it was something they never did before. We had quite a few kids who didn't like school and would wander around and miss lessons but who would love to be at the skatepark. So it became a tool for the teachers to say, 'well if you stay in class and behave well, you can go and skate with Tim.' It worked out!"
Three students having fun at the Alto Trujillo Skatepark (2018)
And what about the parents, weren't they worried about safety?
"The Director advocated that this was something good for the youth. He communicated with the parents. We did have some rules, for example – no kids would be in the skatepark without supervision. That was important, because if they broke a leg or something, they would have to go to hospital and many don't have the resources for medical bills."
This was just the beginning 5 years ago, the Edu-Skate programme went on to hire teachers trained as psychologists and researchers to assess the impact on children, create paid teaching jobs for local skateboarders and taught the CJF crew how to design and execute an educational skateboarding programme in some of the most geographically and culturally difficult places around the globe.
We'll be publishing more articles soon about the Edu-Skate programme in 2022, the CJF perspective of a psychologist in Peru, news on 2022 CJF female leadership awards and managing an international team as a small, innovative non-profit.
Follow us to hear our stories from around the world, stay up-to-date and donate if you can: