Interview with Alfonso Veintimilla
Pictures by Jesus Rengifo Saldaña & CJF Peru
Alfonso a.k.a. "Foncho" is the longest standing member of the CJF Peru team, and this interview shows why. His love and dedication to skateboarding is proven both on and off the board. Foncho has experienced first-hand how important it is to get up after falling down. And to stay positive, in life as in skateboarding. Listen up, here's a thoroughly true skater.
---
Good morning Foncho! At only 21 years old, you actually have the longest history with CJF Peru. Please tell us a little about how it all started! How and why did you get involved?
Good morning brothers and sisters!
It all started back in 2017 when I was introduced to CJF during construction of the Alto Trujillo Skatepark. I became very interested in their work, so when the Edu-Skate programme started, I signed up as a volunteer teacher to help Tim (van Asdonck) run it. It was an incredible experience to be with the kids. They just had so much energy and a non-stop desire to learn. I remember finishing that season with a "King of the Road"-like championship, which was crazy. That whole year was incredible. Unfortunately, I then had to leave my assistant teacher position for a year because I started to work and study.
My mom died in 2019, and after that skateboarding became super important to me. Arthur (Bonal) was running the programme at Alto Trujillo, and I returned to my former position to get involved again. For me, the conversations I had with Arthur as well as the love and energy of the kids were very important for me during that difficult period of my life. We had beautiful moments and experiences during that period. And through them, CJF became an increasingly important part of my life.
I am very grateful for the opportunity to work at CJF Peru and I want to continue doing it for the rest of my life. I do it for the love and passion of skateboarding as well as for the children by giving them a positive and healthy way to face life's problems. Just like skateboarding saved my life, I can help that happen for thousands of children around me.   
How was your experience in "El Alto", inside a public school? What impressions and memories do you carry of this experience? And also, how did it affect you personally?
Being a skateboarding teacher in the first school with a skatepark in all of Peru, how could I feel? I am very happy and grateful with life, proud to have given everything those days from 7am to 12pm, always coming back with a smile on my face, countless nice moments, a lot of love from the kids, and a lot of learning. Personally, it saved my life as it gave me strength and calm during the days when I was feeling the saddest because of my mom. Skateboarding kept me focused on my goals and on my personal growth and on not going down the wrong path. Thank you CJF and skateboarding forever :)
I'm speechless. That's powerful stuff… Let's flip the discussion a bit. What has CJF Peru been up to during these weird times? The school has been shut and the normal programmes cancelled for a year now. How have you continued to drive your mission?
The times have definitely been weird, but we've stayed active! We organized open and free classes for girls at a skatepark in Trujillo. We organized local competitions. We also went on a tour to share our vision and mission of skateboarding for communities around northern Peru. In 2021 we're of course working a lot on preparing for the Cerrito & Lobitos skatepark project which will happen in a few months! But my plan is also to organize more classes for girls and kids and to reach more people on CJF Peru's social networks. Personally, I plan to support CJF Peru in every way possible, making workshops, having more reach on social networks, planning more skatetrips with the team and teaching a lot of skateboarding!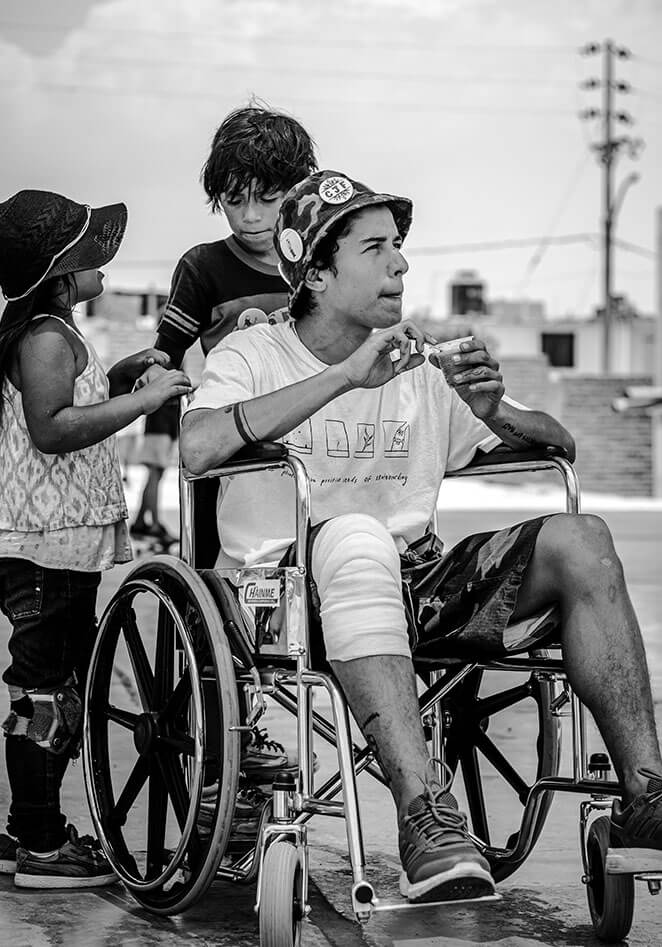 With two new skateparks, CJF Peru aims to bring more movement to the skateboarding scene in northern Peru. What do you say to the readers, to the people from outside and to the people who would like to support our projects? Why is it important to provide recreational spaces for youth and communities?
I am very grateful to CJF because we show that there's not only Lima in Peru, but also a big and growing skate community in the North. And northern Peru has deserved this attention for a long time. The skateparks in Huanchaco and Lobitos are dreams that I have had since I was a child and they are becoming a reality. I have no words. I am so happy and I cannot wait to work very hard this year.
Thank you to everyone who supports us. To our readers, I encourage them to get involved in movements like this in their own community. I want to invite them to Peru to meet the children at the skateparks. Huanchaco and Lobitos are very nice places in Peru. The children have a lot of love and energy to give. You will have a unique and unforgettable experience. These spaces are very important for the development of children and young people, so please support more projects like this all over Peru and the world :))
Foncho, thank you very much for the interview! Is there anything else you want to mention, or do you want to send greetings to someone?
Thank you and lots of love for everyone. Let's always do what we love and never forget to share. Greetings to my real friends, they know who they are. They are all incredible people and I love them very much. Thanks to my dad, to God, to my mom from heaven. Greetings to everyone from Huanchaco. Everything in this life is possible :)
Bomba! And good luck!