Energetic Nomads Skate Crew
Pictures by Jeff Crossly
A year after they started skateboarding, we caught up with the Energetic Nomads, the first group of graduates from the Edu-Skate Programme at the Freedom Skatepark. They're all still skateboarding regularly at the Freedom Skatepark and outside of it. In fact, they've been working hard on their second video: 'The Future is Ours'. They have grown into a close-knit group that spends most of their days together. Get to know the group better through the following group interview.
How did the Energetic Nomads come to existence?
The Energetic nomads came to existence from the Edu-Skate class. After the skate classes we also started surfing. We go to the skatepark, we go surfing, we don't stay in 1 place, we have too much energy. We're energetic nomads.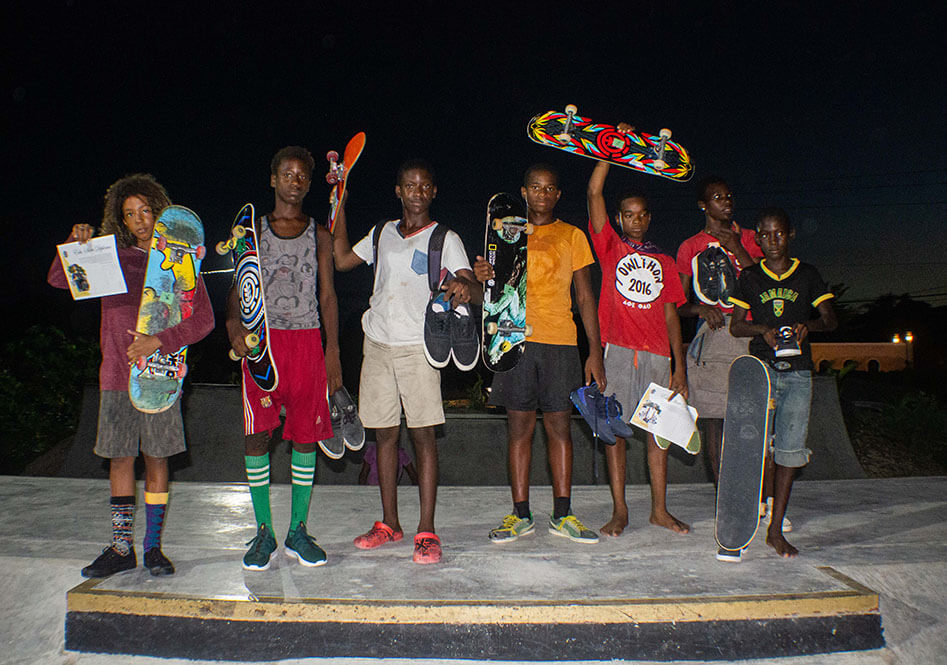 The Edu-Skate graduation of the Energetic Nomads in October 2020
Could you tell me more about its members?
We have Shaqueal (15) who acts like the boss of the group, we have Herny (13) who is really good and teaches us too. Tommy (14) got really good too and loves to show it. 'Bigs' (12) has style and love to impress girls. Jaykwon (13) tries to be sophisticated, Li (12) who speaks like an American and Gawayne (15) who is very extra in his reactions and loves to chat.
Did you know each other before the Edu-Skate classes?
Yes, but not everybody. Some of us were friends before. We became a lot closer by skating together and we behave a lot better towards each other though.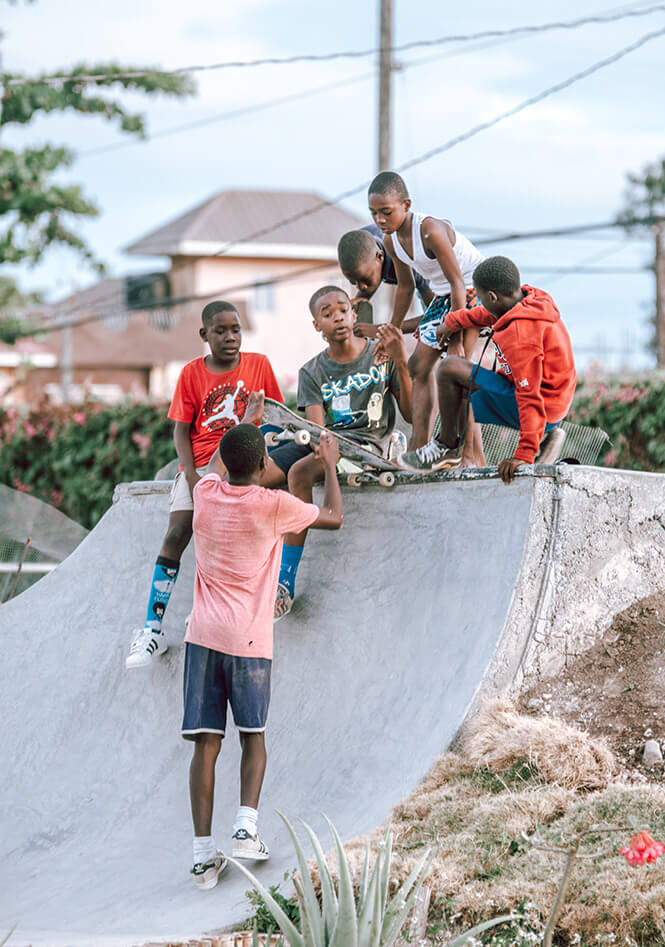 Since their graduation, the Energetic Nomads help in teaching the classes for the new students
What did you like most about the skateboard classes?
We learned a lot of tricks. It motivated us to push our limits and go hard. The teachers were also really nice and it was really cool we got to go on trips. The skate classes also taught us to have principles and manners.
What were your favorite lessons during the Edu-Skate course?
The lesson where we learned to be brave (the Courage lesson) and the one where we learned how to fall, to overcome and try again (the Resilience lesson).
I can read on your IG that "we work hard and keep trying to work on our skill in skating and at the same time we build our vocabulary #homework". Could you tell me more about the Homework programme?
The Homework Programme helped us to understand more subjects and topics. From when Covid-19 started we didn't go to school, we missed some things and Icah pushed us to get back on track and go to the limit. Icah was very nice and very funny. He pushed us to understand the work properly. Even if we say we understand it, he asks us to explain and makes it more clear. He shows us how to do things.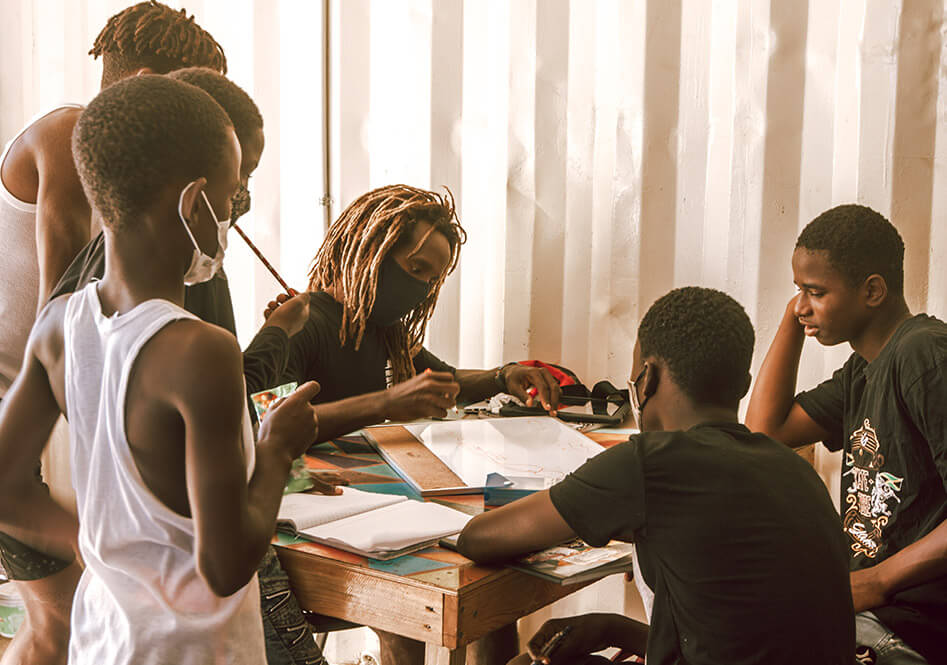 Homework session with our homework teacher Icah Wilmot
Why do you think it is important to build your vocabulary?
If we go to Street League we know how to speak properly in standard English or whichever language the county is speaking. Also it can help us in the future to get work or sponsors for skating. It helps to write one word instead of explaining a lot. It is important in life.
Why the name 'Energetic Nomads'?
Because we're full of energy and we don't stay in one place all the time. The name started with a talented group that wants to make a change. We want to let people know that we in the ghetto are talented and even though we don't have as much as we should, we still can succeed in life without having everything.
You have been skateboarding for about 1 year now. What has changed in your life since you started coming to the Freedom Skatepark?
We stopped getting in trouble like fights, we don't cuss bad words as much anymore and we have more manners. We respect people when they come to the skatepark. When people from Jamaica or outside come to the park, we know how to talk to them and respect them and they'll treat us the same. When we visit another place we now know how to speak and behave. There are these wonderful staff members at the park that motivate us and tell us to not give up. We also got a lot blacker from the sun and being outside all the time.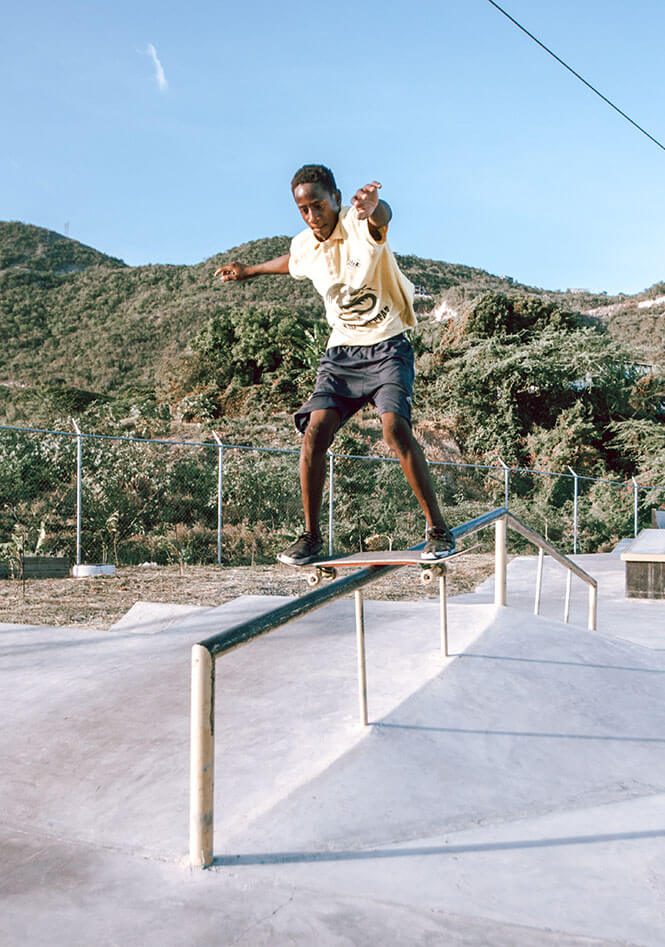 Tommy (14) backside boardslide on the A-frame rail
What is your best memory so far at the Freedom Skatepark?
The first time on a skateboard, learning tricks and also some of the falls. The scene at the park is also sick. Seeing Shama fly also and when Diego did a blunt on the extension.
What lessons did skateboarding teach you?
To have perseverance, to be brave and to have courage. Skateboarding taught me to really go for things, to never give up and work hard for your tricks. Skateboarding also taught us to respect other people and to have manners and don't fight.
What can we expect from the Energetic Nomads in the coming year?
You will see us getting better and better, we want to learn some bad tricks. Tommy wants to do a blunt kickflip! We also want to have more people in our group. We started a youtube channel and we want to upload 2 videos a week. You will see us in skateboarding magazines and we want to get more sponsors.
---
Follow the Energetic Nomads on IG!
Follow the Energetic Nomads on Youtube!
Help us impacting lives in Jamaica