A Step-by-Step Approach to Long-Lasting Impact
Concrete Jungle Foundation leverages skateboarding and its culture as a tool to engage youth worldwide in a positive and transformative manner. Our journey begins when communities approach CJF with a need for recreational space and a genuine desire to make a difference in their community through skateboarding. This initial step has not changed since our beginnings in 2017 and defines our work up until this day.
We invest time into understanding community needs both nationally and locally, developing contextually unique programming. This collaborative process involves community discussions, local partnerships beyond just skateboarding communities, and a collective imagination of future skatepark space. Importantly, it is at this time that we immerse ourselves in local skate scenes, learning about current challenges, future aspirations and begin to identify Planting Seeds Apprentices.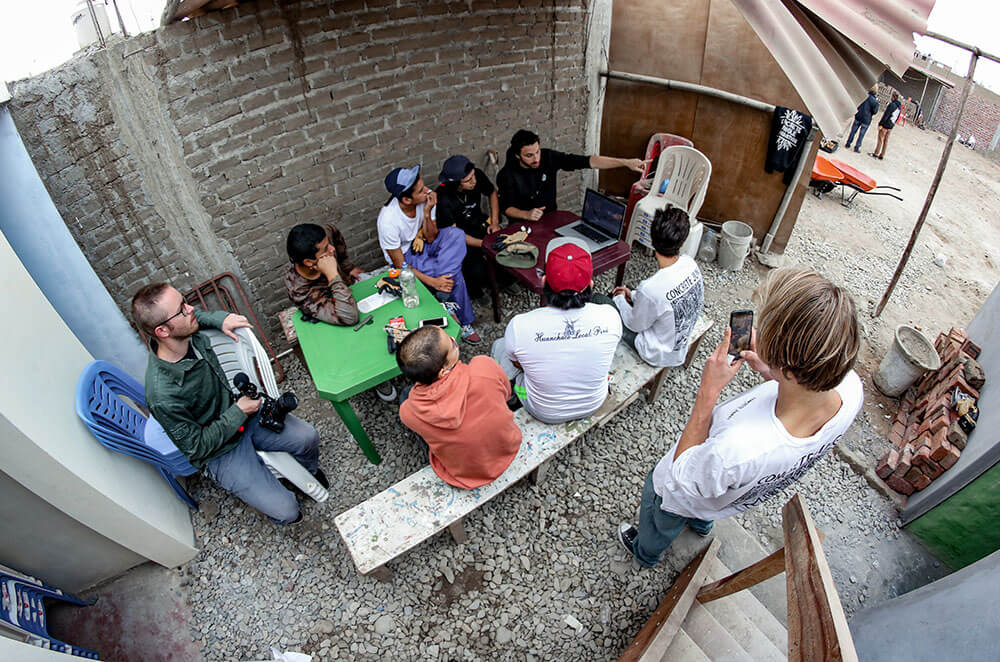 Planting Seeds Apprenticeship 2021 - El Cerrito, Peru
Once projects have been initiated and we begin working on a collaborative vision for the future skatepark, we then move on to the construction phase. Through the Planting Seeds Apprenticeship, community building takes both a figurative and literal meaning. It is at this phase that we co-construct skateparks alongside the local skateboarding community, sharing construction skills with wider benefits to place-making and local ownership of projects. Not only does this support skills development and employability options for the skate community we are working with, but it also becomes an intense yet integral process of growing meaningful and long-term partnerships through the collaborative and often challenging construction process:
'CJF builds skateparks, long-lasting partnerships and collective visions for the future with local skateboarding scenes'
While each skatepark programme is unique to the project location, across each project, we employ local staff to manage and develop the space whilst members of the local skateboarding scene run the Edu-Skate Programme. The Edu-Skate programme serves as the cornerstone of every new project, teaching beginner skateboarding classes that also provide a solid foundation for imparting essential life skills to children, staff, and the wider skatepark community. The Edu-Skate Curriculum is aimed at children and young adults to not only learn the basics of skateboarding but also develop life-skills inherent in the practice, which they can apply beyond the ramps and rails of their new community skatepark.
In 2021, we wanted to understand Edu-Skate Classes in more detail, with the ultimate goal of improving programming as we upscaled the delivery of lessons through the Edu-Skate Worldwide Network. To do this, we started a unique and ambitious research project to not only measure the impact of Edu-Skate Classes but also understand how this interacts with other programming delivered at our skateparks. This project was developed with researchers from Goldsmiths University, London, alongside the staff employed at The Freedom Skatepark in Jamaica. Whilst Edu-Skate Classes teach individual life-skills, these are rooted in the Self-Determination Theory, which seeks to improve participant autonomy, competence and relatedness as foundations to happy and healthy adolescent development. The research revealed an average improvement in Edu-Skate participants' perceptions of their autonomy, competence and relatedness whilst indicating that improvements accelerate with further enrollment in the wider programming at our skateparks. This validation underscores the delivery of multifaceted programming at our skatepark locations, especially in some of the most challenging environments in the world.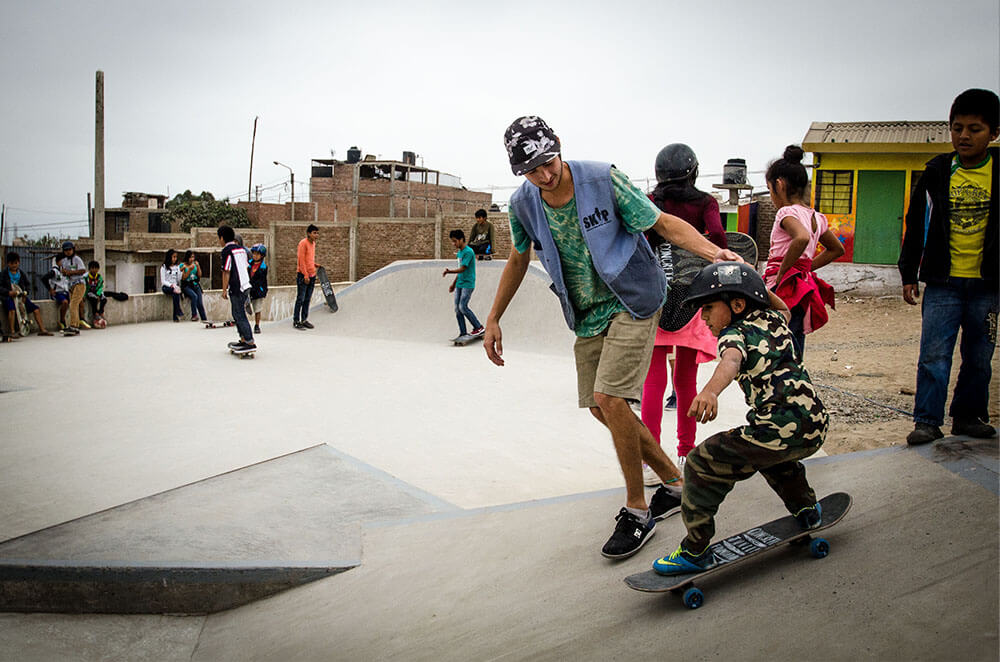 Edu-Skate 2017 - Alto Trujillo, Peru
Once the Edu-Skate programme is up and running, we shift focus to a participatory approach of continuous monitoring, evaluation, and learning. This enables us to identify new programme areas that directly respond to the community's evolving needs. These can be tracked through our Quarterly and Annual Reports for each project location so anyone across the world can see our programming, impact numbers and how we collaboratively respond to changing situations in Peru, Jamaica and Morocco:
'Robust monitoring and evaluation across project locations that are developed with local skatepark staff enables us to be responsive and proactive to changing circumstances'
A prime example of this is the Homework Programme that began in 2021 at Freedom Skatepark as a result of Jamaican schools closing in relation to the COVID-19 pandemic. At this time, we were able to highlight increased participation rates at The Freedom Skatepark, identify children who were no longer attending schooling, and higher local educators to deliver remedial education curriculum to ensure no children were left behind. Management, programming and evaluation led by local staff allow for well-placed and responsive action to changing circumstances in which programming effectively addresses community challenges whilst shaped around the experiences of the local skateboarding scenes.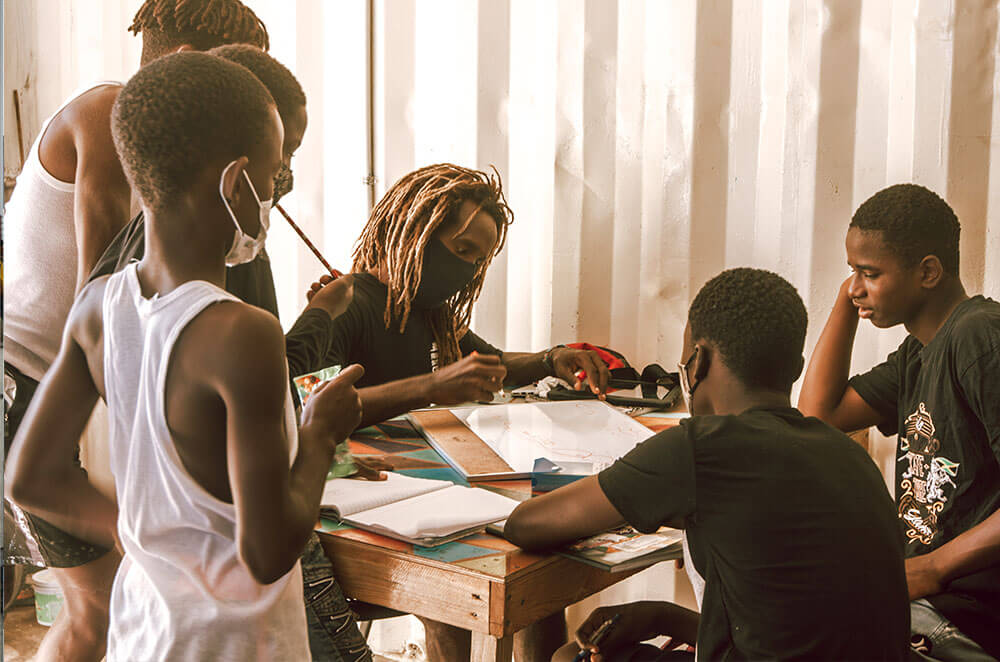 Homework 2021 - Bull Bay, Jamaica
While addressing community needs, fostering a sense of belonging, and supporting the development of local skateboarding scenes are central to our programmes, we also remain committed to the core values of skateboarding. We offer a range of enrichment activities, from music classes, DIY ramp repair to photography and screen printing, all with a connection to skateboarding culture at its roots. This not only provides fresh learning opportunities for youth but also develops community networks between the skatepark spaces, local skateboarding scenes and wider artistic practitioners. Local teachers share their expertise with youngsters, creating a vibrant exchange of knowledge, skills and role model structures unique to the culture of skateboarding.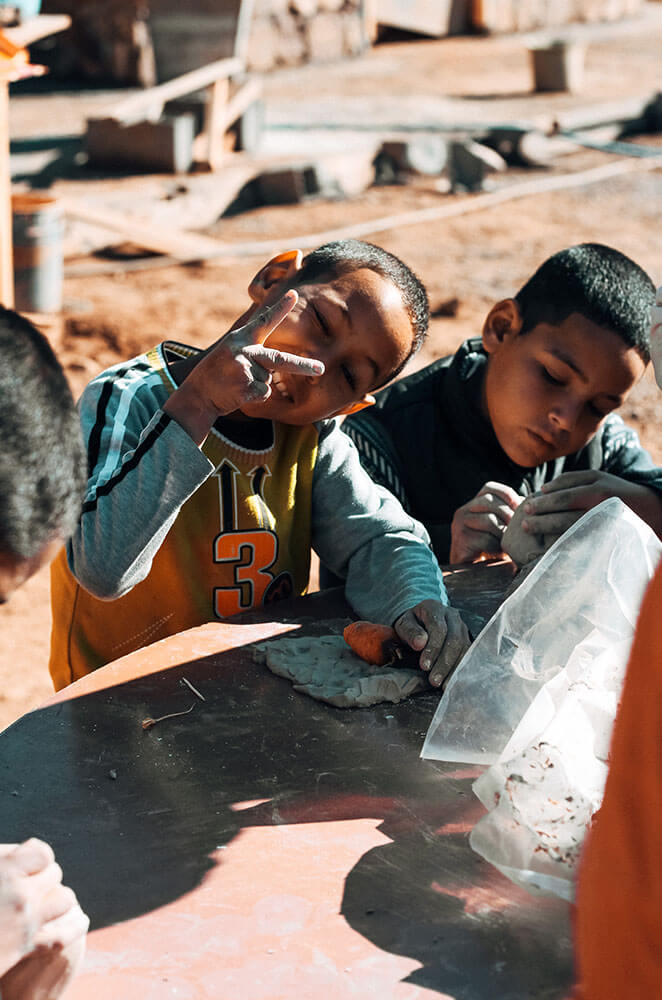 Ceramic workshop, 2022 - Tamesloht Morocco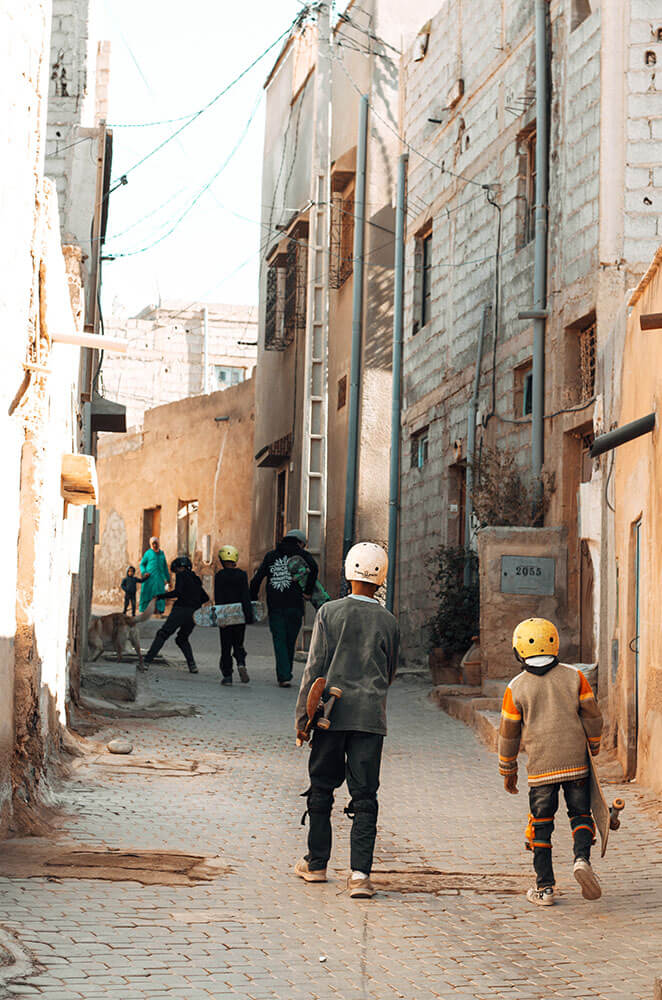 Street Session 2022 - Tamesloht, Morocco
Building a Theory of Change towards Sustainable Development
This holistic approach emphasises life skills, practical skills, and an expanded scope of learning. Our step-by-step process aims to provide a comprehensive experience for the children we work with based around the skills that can be learnt from skateboarding, yet skills that far exceed learning to kickflip alone. This is an adaptable model, shaped in collaboration with the communities we work with and fueled by skateboarding culture, yielding measurable outcomes aligned with the vision of the United Nations' Sustainable Development Goals (SDGs) for 2030. Importantly, our work addresses nine out of the seventeen SDGs while remaining firmly grounded in grassroots efforts, guided, shaped, and led by local skateboarding communities.