Skateboarding changes lives
Interview with Emilio Rodriguez, pictures by Jesus Rengifo Saldaña
In this interview Emilio Rodriguez gives us insight into his own journey with skateboarding and his projects with CJF Peru. Emilio is a passionate skater, originally from Huancayo, Peru, who has been working with CJF Peru for over a year. He has been helpful with a little bit of everything: relations with local governments and other NGOs, programme management and as an Edu-Skate teacher.
But there is one thing more he's known and so much appreciated for, that's editing and videography. Today, Emilio will share something very unique with us: his documentary "Skateboarding Cambia Vidas" (translated into "Skateboarding Changes Lives") which will be released next Monday! The documentary not only follows the day-to-day operations and experiences of the summer 2019 Edu-Skate program in Alto Trujillo but it also portrays all the beauty (and challenges) of educating through skateboarding. Enjoy the read!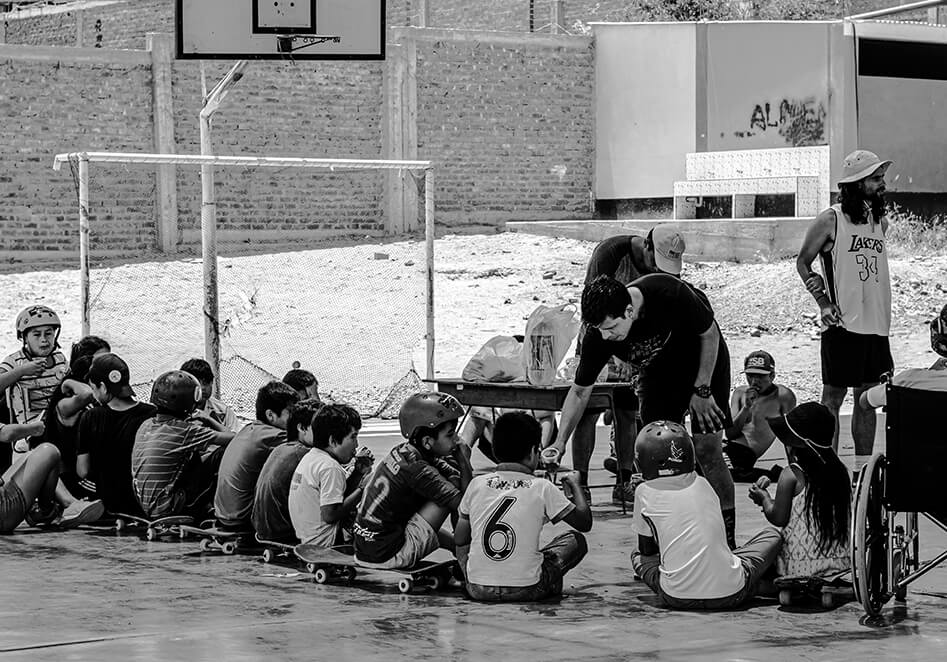 Emilio, good morning and thank you for taking the time to talk to us. How long have you been involved with CJF and CJF Peru? And what do you do at the NGO?
Hello everyone! Good morning, thank you for the time and the opportunity. I have been collaborating with CJF International and CJF Peru for a little over a year now. I started as everyone else in the volunteer team, and now I am working in Programme Management.
We want to talk to you about something very special today: the documentary "Skateboarding Cambia Vidas". You are the person behind the camera and you have dedicated a lot of time to the production of this video! Please tell us about your project: How did it all start? Where did you shoot? How long did it take you from start to finish?
Simply, the name says it all "Skateboarding cambia Vidas" (translated into "Skateboarding Changes Lives"). Since my beginnings in skateboarding, I noticed how my life changed in a different way than others' lives through the practice of a risky sport, the falls, the blows, etc. As time went by, skateboarding introduced me to many people and made us become brothers and sisters. I had visions of projects like skateparks, skateboarding classes, and more support to the skateboarding community.
Something that always filled me with motivation was that I knew that someday I will share everything I was learning and living through skateboarding with people because life is about spreading the positive seeds. I imagined sharing my love for skateboarding with my own son or daughter, with a cousin, with a neighbor or a friend, but I never imagined that I would be sharing that love at a public school with more than 30 girls and boys through a program called "Edu Skate" together with teachers from all over the world with an incredible sports culture. I had to capture somehow all those moments and that's how the idea was born- and without much more film equipment than 2 go pros but with a lot of excitement and motivation.
At the time of editing, it was complicated because of the lack of equipment. However, one thing that I have learned from skateboarding is that it doesn't matter if you don't have much, you will always live to the fullest with what you have. The filming was done in the 3 months during the summer program and it took about 3 months as well to select all the shots. In the process, our friends from Spanglish, a partner NGO that also collaborated in the project, helped us with some drone shots and this is how collaboration and mutual aid once again strengthened the documentary. I will never stop thanking skateboarding for all the brothers and sisters it has given me. The documentary reflects all that: friendship, collaboration and self-confidence, and many more incredible values.
What is behind all the skateboarding shots in the documentary? What message do you want to convey to the audience with this documentary?
The message I want to spread is that in life, there is always going to be obstacles and in sports, this is also inevitable. What we can do is strengthen our positive mentality and realize that we are capable of overcoming any obstacle.
It is true that the documentary was not the only project during your time at CJF Peru. Looking back to last year, 2020, what memories remain in your mind? What are your favorite projects that have been carried out?
Without a doubt, the experience at the Alto Trujillo School during the summer program...here, I met many children who have marked my life because watching them skate and being happy was worth all the effort. A few days ago, I was able to go see these kids again after a long time with my brother Jhikson (a member of the CJF Peru team). They send greetings to all the awesome skate teachers: Arthur, Tim and Clem. They hope to skate with all of them soon :)
All the projects with CJF are full of magic, but without a doubt our tour to Northern Peru was pure magic. I won't say anything else as you can see for yourself the amazing experiences we had during this trip on the video about the Tour Norte shared on @CJF_Peru and @concretejunglefoundation. Yiha!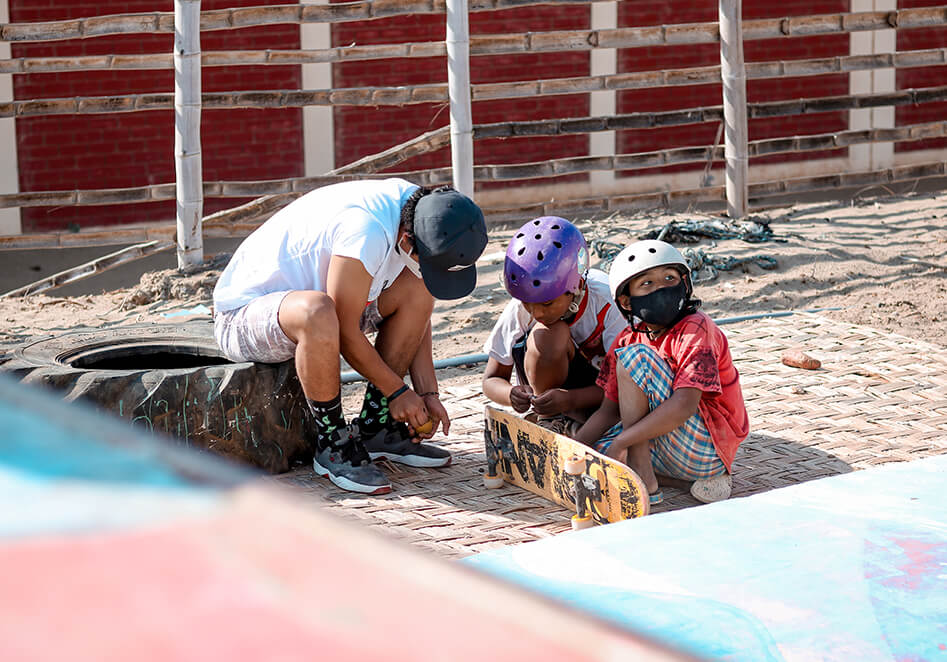 And of course after a look back and a look forward: Where is CJF's journey going? What are the plans for 2021? And what plans and objectives do you have personally for this year that has just started?
We have a lot of faith and hope to start our skateboarding program again and to have contact with the children. I hope that the health situation in Peru will improve and soon we will be back to share our love for skateboarding again with the kids.
On the other hand, the objectives are to create new partnerships with schools, cultural centers, NGOs, municipalities, etc., in order to generate more public and private spaces for sports, especially skateboarding- and of course, always hand in hand with the implementation of educational programs based on positive values for children and youth.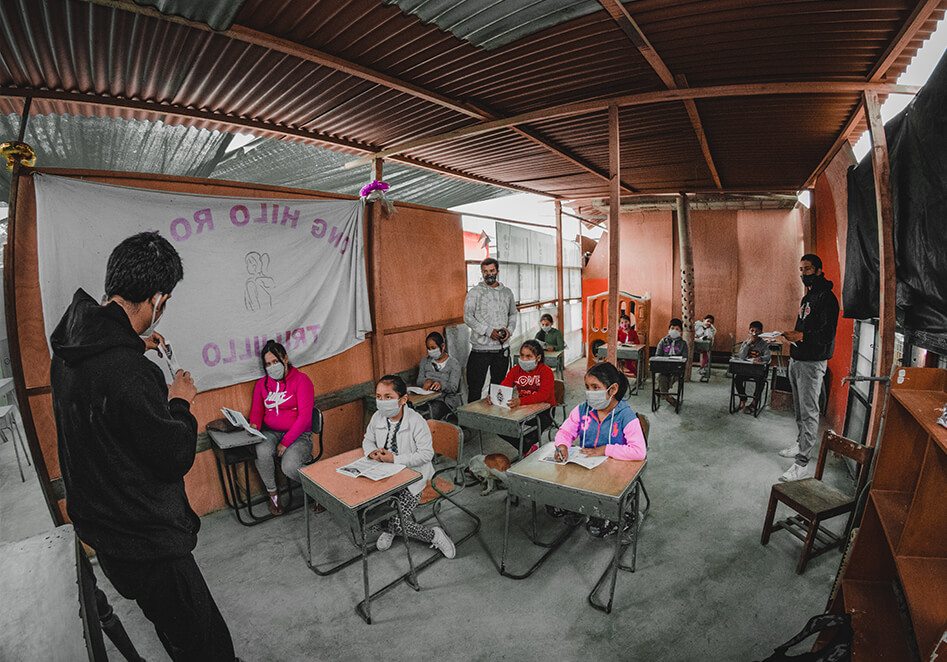 I think that this day, the day of the first premiere of your own documentary, is something very special. Who do you want to send greetings to, who do you want to send hugs to, and what do you say to people supporting CJF Peru?
A kiss to heaven to my angel and many blessings to all those involved in the CJF projects. We will continue to work with passion and love towards the children and skateboarding.
Thank you very much, Emilio! Good luck in everything that comes next year!