Meet Kamal, Our Skatepark Manager at CJF Morocco
Words by Kamal & Irene Parra
Photography by CJF Morocco
"I arrived in Tamesloht and they told me a group of 22 people would come here to build a skatepark on the new terrain. I heard this word 'skatepark', but I didn't know this word, so I said 'ok, Inshallah'"
When Kamal first met CJF, he wasn't part of the skateboarding community or ever engaged in working with youth. He was a committed worker and was looking for new job opportunities that would allow him to offer his family stability and well-being.
"I'm Kamal, I'm from a small mountain village called Itourir in Morocco and I'm 25 years old. Before CJF I worked different jobs that I could find in ceramics, construction, gardening and security. I like to work, so I was always looking to occupy myself. (...)
I arrived at the centre 15 days before the first people from CJF arrived. I didn't know what we would do; I just came and helped where possible. When I first saw the plan, I started to understand more of what we would do…"
One year later, we are celebrating CJF Morocco's first anniversary. Kamal's interview reflects on a year of implementation, learnings and challenges and shows us the most human (and perhaps, important) side of our programs, our team!
Kamal started working with CJF Morocco when the program had just been initiated; learn more about him and what has happened in the last year at CJF Morocco; keep reading!
Kamal and CJF, an Instant Match!
"My brother called me that Madam Karima, his boss, had a job for me at Centre Fiers et Forts as the guard of their new terrain. I arrived in Tamesloht and they told me a group of 22 people would come here to build a skatepark on the new terrain. I heard this word 'skatepark' but I didn't know this word, so I said 'ok Inshallah'. (...)
We worked together with 22 people in 1 place, and at first, I thought, 'Oh my god, how is that going to work?' In Morocco, if you have 22 people working together in 1 place, after 2 days, you have a fight. But everything was good here: people were teaching each other, there was a plan every day of what we wanted to do, and they took their time to do it right."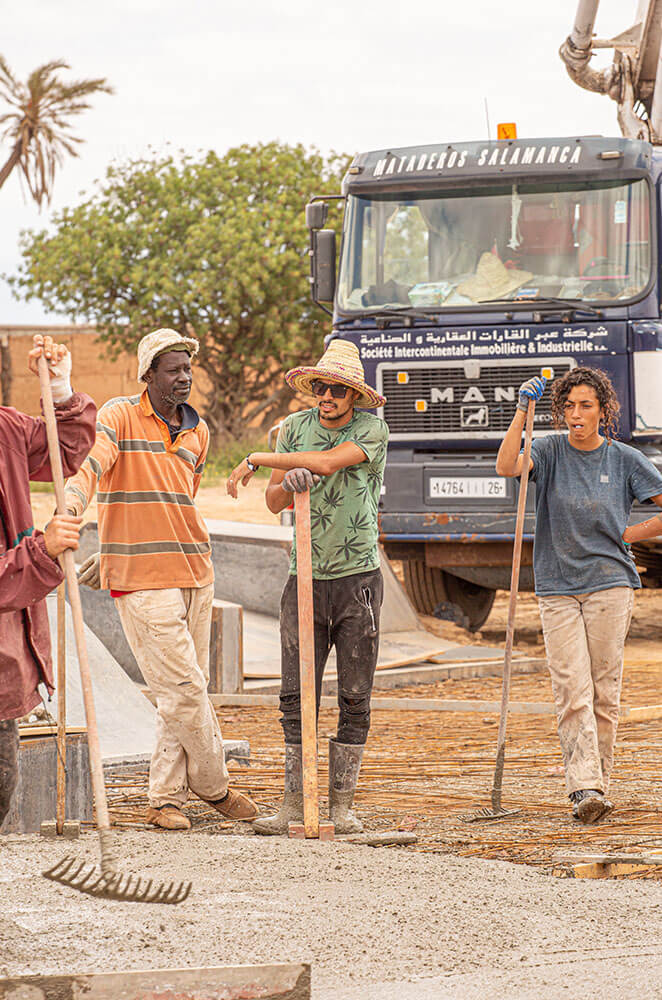 Kamal during the construction of the Fiers et Forts Skatepark in Morocco
Kamal was involved in our programmes in CJF Morocco from the very beginning. He demonstrated his ability to learn fast and connected well with our team and participants. By the end of the construction, the connection between Kamal and CJF was already a reality.
In a short time, he already knew how to get his way around a skate and showed our team how valuable he could be for the project at Center Fiers & Forts
"I got to know a lot of people from different countries that came to help. I got to feel what 'helping' is. They all came to help build something they weren't even going to enjoy themselves. I said, '1 day inshallah, we have a group in Morocco too that helps like this'. 1 day inshallah, I want to go back to my hometown and teach skateboarding to the kids there.'
During the construction we were teaching the kids to skate already, so I came to help. Arthur told me '1 day you should teach kids'. I came a lot and learned to skate. We had a talk with Madam Karima, Arthur and Yassine as a translator, because I didn't speak a lot of English. They saw how I worked at the construction and how I talked with people and thought it was good. We talked about becoming the skatepark manager for CJF besides the guard of the terrain. My wife was pregnant, so I was worried I couldn't leave when she would give birth, but they said this is no problem, so I accepted the job."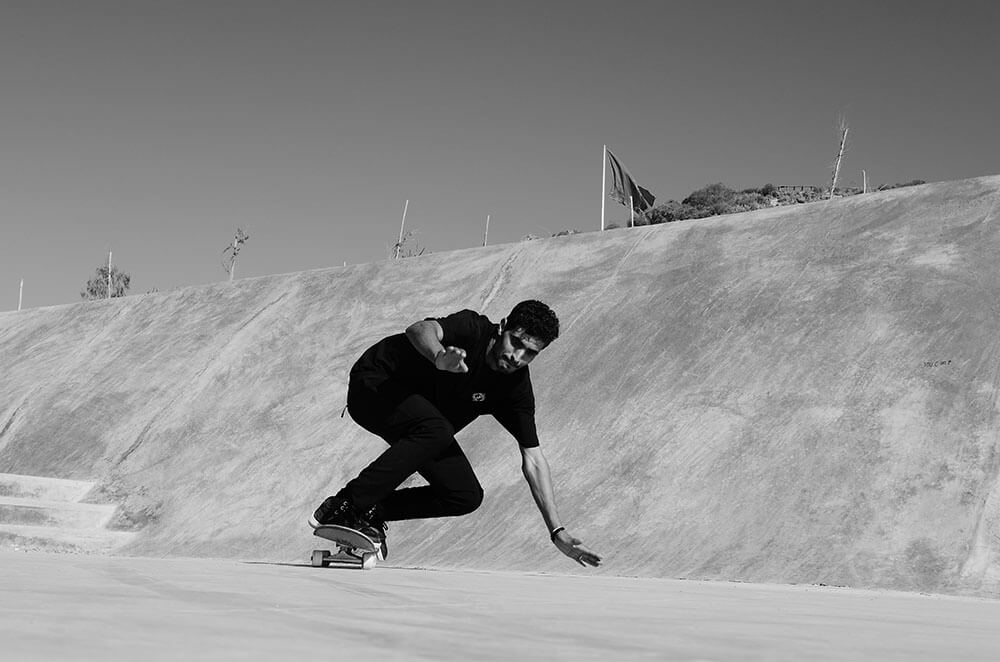 Kamal skating in Tamraght, Morocco
Kamal became a crucial part of our programmes and quickly joined our staff team as the Skatepark Manager of CJF Morocco. One year later, we are celebrating our first anniversary of programmes in Tamesloht, Morocco!
A Lot of Challenges, a Lot of Learning!
As the Skatepark Manager, Kamal faced many challenges throughout the year. But when we asked him what he has learned in the past year, this was his answer:
"I learned to skate: this is a big thing I learned. I like skating; you forget everything else, and learning something new gives you a big energy and makes you want to learn more. (...)
I learned how to work with children. When I see kids smile and happy, I feel like I helped and did something good: this makes me very happy.
I learned how to work with a computer. This was the first time I ever worked with a computer; in the beginning, it was difficult, but now I'm learning step by step.
And I learned to speak English! (...) I've always wanted to learn English, so the construction was the perfect opportunity for me to learn: I was taking notes every day of new words I heard."
Kamal was not only part of our Planting Seeds Apprentice Programme, which provides skatepark design and construction training. Through his experience as the Skatepark Manager, he has also had the opportunity to learn new skills that allow him to flourish as a programme leader and do his job successfully.
"Are there any challenges you are facing now?" we asked him.
"I know that everyone from CJF will go at some point: I need to learn to take all the responsibilities that come with running the project."
One Year of CJF Morocco
If you are familiar with CJF, you know we care a lot about our programmes' impact and constantly monitor and (re)evaluate our work.
When talking with Kamal, we couldn't avoid asking him his thoughts on the impact of our Edu-Skate Programme at Centre Fiers et Forts.
"At the start we had problems: the children just wanted to play and didn't get that we were working on values through the classes. This has changed a lot over a year of classes, the kids are engaged, they put in effort and are respectful."
And according to him, this has shown in other aspects of their lives and how they interact during other activities in the centre.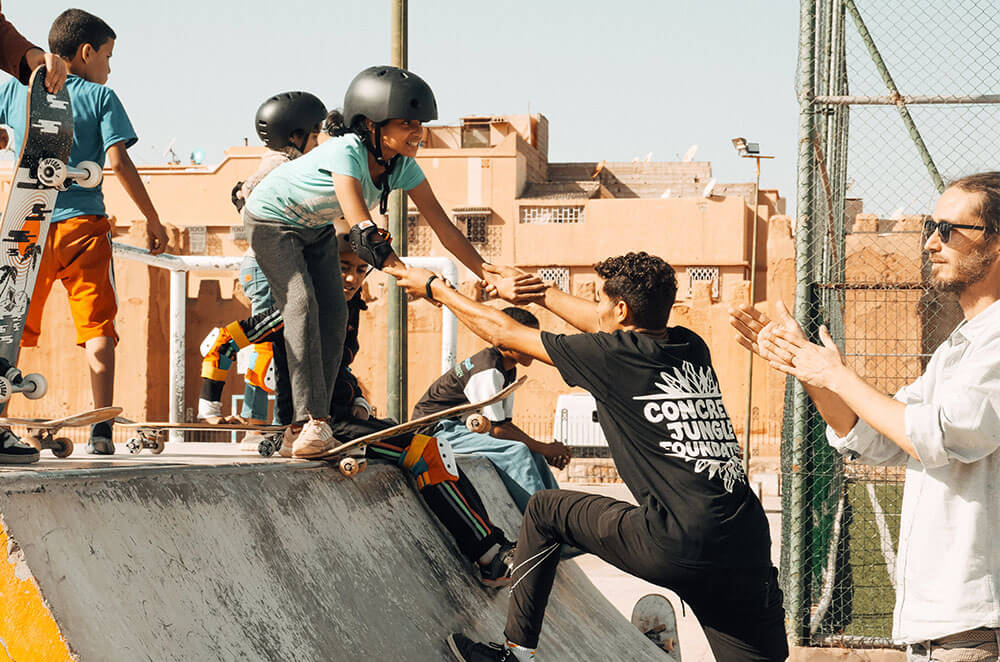 Kamal helping a student to drop in in Morocco
If you want to learn more about the impact and the numbers behind it, you can always check our season and activity reports for CJF Morocco, available on our website.
You Need More Reasons to Support Our Programmes? Learn More About Our Impact.
Kammal's story is just one example of the impact of our programmes in Morocco. To end the interview, we asked him about his favourite memory of this year with CJF.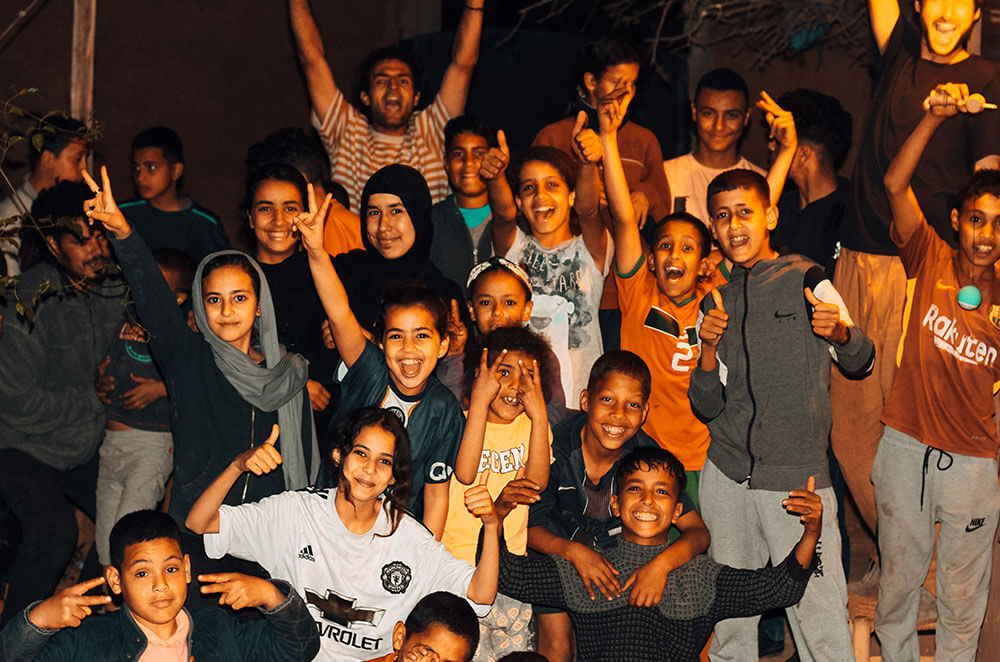 Children from the Centre Fiers & Forts in Morocco
"The first contest we did at the skatepark. It was the first time that we had the kids from the centre and the village together; before this, we had separate sessions. Everyone was challenging themselves and motivated. It was also a great way to see all the life skills that they learned the past year on display: they had courage, giving everything a try, they were sharing boards, encouraging each other. It was beautiful."
Our Morocco programmes had a significant direct impact on the kids living at the Centre Fiers et Forts, but also on the youth in the broader community and the staff involved in the implementation.
The Edu-Skate program allowed us to work with the 38 students living in the centre. However, we realised how important it is to create a space for them to share and connect with other kids in the community and how skating could facilitate this. This is now one of our short-term priorities, and we are hosting mixed sessions for the kids to enjoy skateboarding together.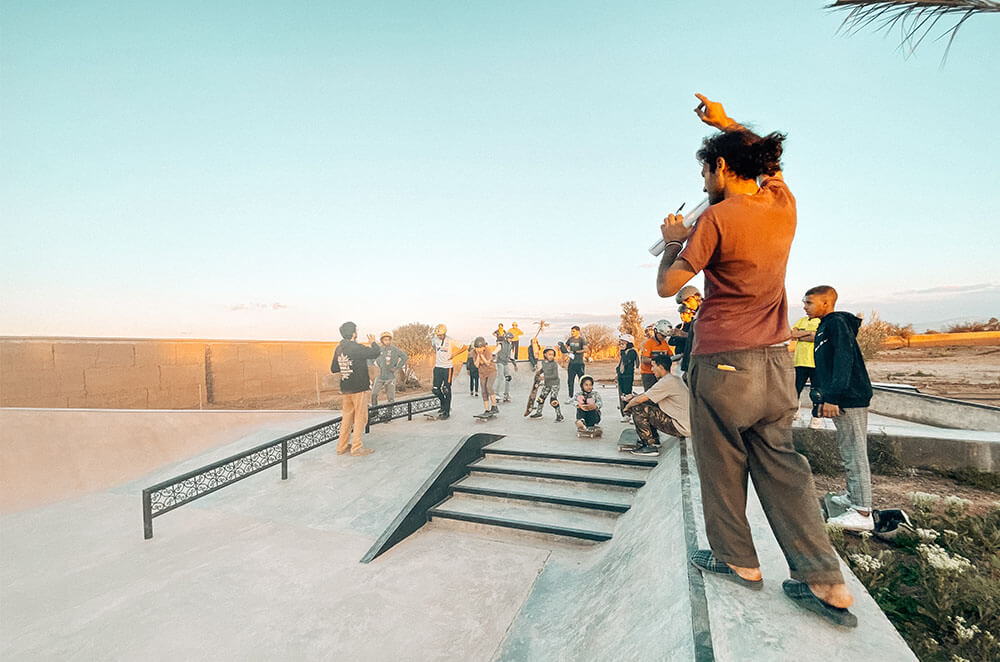 Contest at the Fiers et Forts Skatepark, Morocco
Furthermore, the Planting Seeds Apprentice Programme continues to provide our apprentices with free high-quality training. They recently were part of the skate park maintenance project in a new opportunity to improve their construction and welding skills and raise awareness in space ownership. CJF Morocco now has its own welding machine and angle grinder, and we can't wait to see how their next project turns out!
We Have a Bright Future Ahead of Us, Inshallah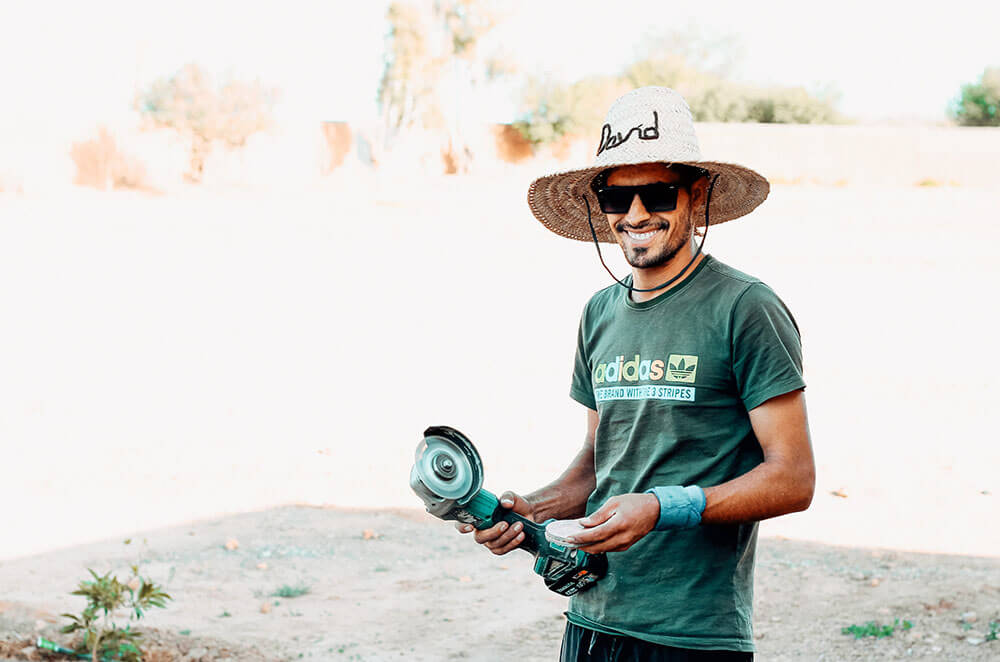 Kamal doing some upgrade at the Fiers & Forts Skatepark, Morocco
Less than a month ago, part of our international team flew to Morocco to lead some skatepark maintenance tasks.
As a result of this little trip, one of the most beautiful, creative and exciting art and construction projects we have started at CJF was born.
Mosaic workshop at the Fiers et Forts Skatepark in Morocco
The participants of our Edu-Skate Program, with the help and construction skills of the team of apprentices and staff, designed and built a beautiful mosaic with steel ornaments incorporated that now adorns the Center's facility as a great example of collaboration and teamwork!
But also as a reminder of how skateboarding (and everything that comes with it) continues to be an excellent tool for social change.