CJF apprentice Jhikson has been awarded the first-ever scholarship from The Skatepark School
Words by Lisa Jacob
Photography by Jesús Rengifo Saldaña, Jhikson Akamine, Amaia Etxeberria, Jago Stock & Yassine Sellame
We are very happy to announce that one of CJF's previous apprentices, Jhikson Akamine Garcia from Peru, has been awarded a grant to attend a skatepark design course from pioneering school, The Skatepark School, an online training school created by industry professionals from Australia for anyone looking to get into the particular craft of skatepark design. Providing people like Jhikson with more opportunities to learn and develop their expertise is part of the CJF Continuity of Learning Programme, an expansion of our Planting Seeds Apprenticeship to provide apprentices with skills beyond skatepark construction.
Jhikson got into skatepark construction in 2020 during the CJF build in Cerrito de la Virgen, Peru. He was one of the 6 apprentices that followed the Planting Seeds Apprenticeship programme during the build of the 170 square meters "La Rampa" skatepark.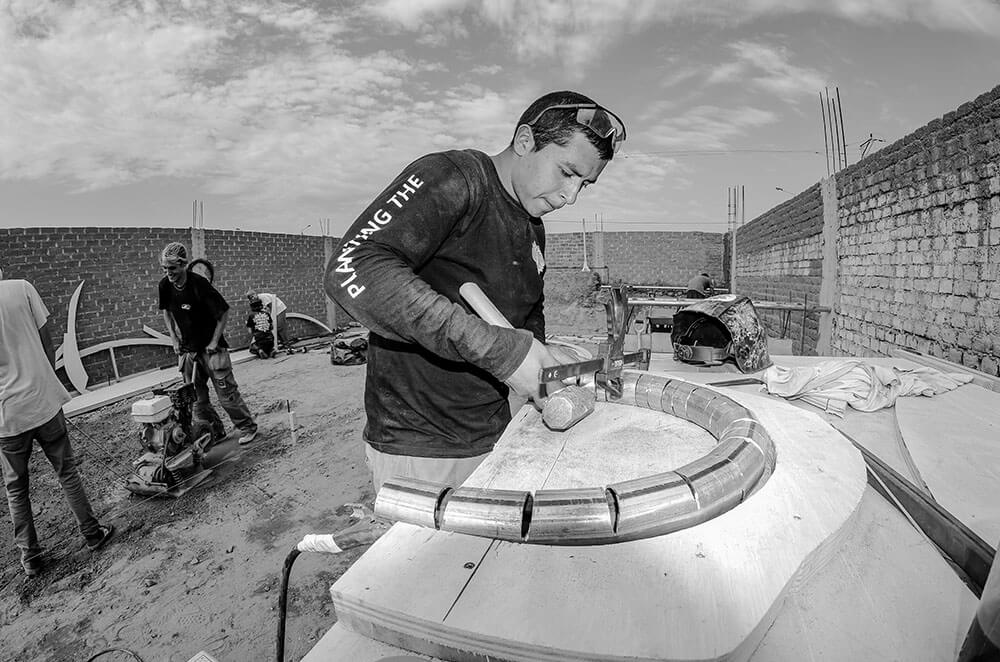 Jhikson proved himself to be a particularly motivated and hardworking candidate and rapidly learned all the basics of skatepark construction from groundwork, steel frames and wood structures to concrete finishing through various workshops and theoretical classes given by professionals from the industry during his paid apprenticeship.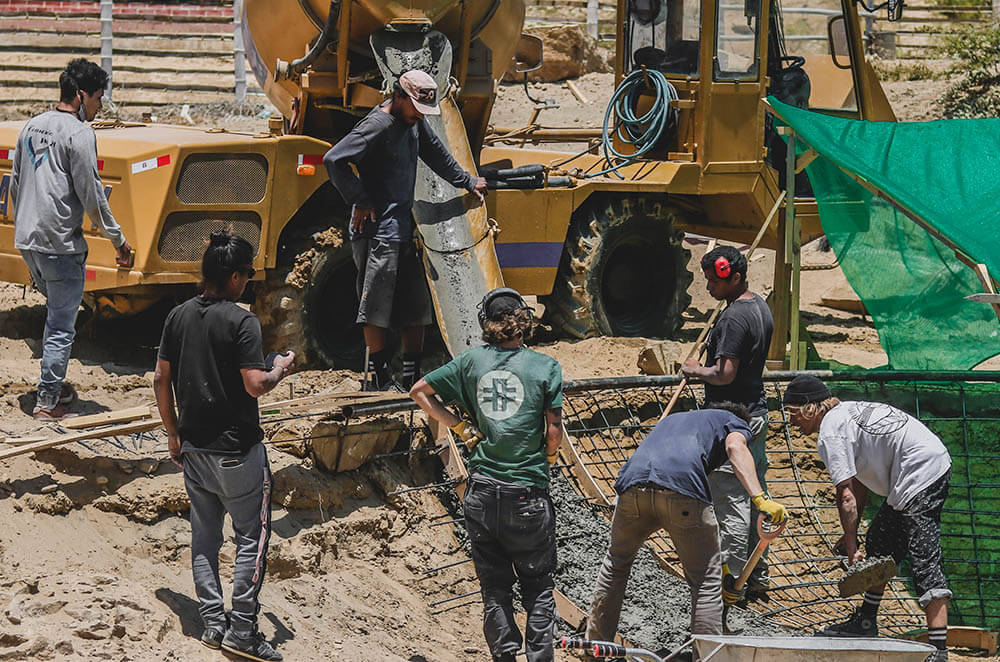 CJF stayed in Peru to build a second park in the north of Peru: the Lobitos bowl where Jhikson and other former apprentices were invited to take part in CJF's Continuity of Learning (CL) framework. The CL framework is a follow-up to the Planting Seeds Apprenticeship Programme for those being trained in skatepark construction can benefit from more than one construction site. With this framework, CJF offers its former apprentices, like Jhikson, further opportunities when it comes to other CJF skateparks, NGO skateparks and international projects.
Two months later he took it upon himself to repair his home park... in Trujillo. Proving his dedication to the skateboarding cause and desire to develop further his skills in his own country, we decided to grant him with another CL opportunity by sponsoring him to join our Morocco build at the Centre Fiers & Forts children's home, a 740 square meter skate plaza, where he took responsibility for the most complicated obstacles and confirmed his expertise in all kinds of crafts: steel, wood and concrete.
A few months later he became the project manager of a 126 square meters project in partnership with the Oye Lena NGO in Cusco, Peru. CJF provided him with counselling and feedback support while he planned everything himself from the start: designing, budgeting, logistics and managing his own team on the ground. In November 2022 he completed his first project as project manager, site director and fully experienced builder and even improvised as teacher, sharing his knowledge with the rest of his team. By doing this, he fulfilled the ultimate goal of the Planting Seeds Apprenticeship: teaching the skills he'd learned to others so they could also learn and develop.
INTERVIEW OF JHIKSON AKAMINE GARCIA
---
You are the first student to be awarded a scholarship at The Skatepark School (TSS) design course, what does it mean to you?
For me to enter TSS is incredible because in Peru there is no school that is dedicated to the design of skateparks and also I searched the internet how to design skateparks in the sketchup program and I have never found something that connects with skateboarding. I FEEL VERY GRATEFUL!
You started learning skatepark construction during the construction of CJF at La Rampa in 2021, how would you describe that experience and what did you learn and like the most?
Yes, the skatepark in Cerrito la Virgen was my first skatepark construction project, it helped me learn a little bit of everything, from design, buying materials, working on concrete to carpentry etc, I invested more time in learning concrete and welding and what I liked the most was spending time with the whole team and talking about their experience and learning from these projects.
After the completion of La Rampa you got involved in the construction of Lobitos bowl, as part of the continuity of the CJF learning experience, how was that completely different project in terms of design and construction a welcome addition to your work experience?
Yes, the two projects are very different with respect to the design and the community that will skate it, the Lobitos bowl was something completely new to me: the design was bigger and quite different from Cerrito de la Virgen. The execution of the project was also different on many levels and all of that helped me to learn how to make a bowl from scratch and how to work as a team on the construction site, obviously it was a great experience and a lot of knowledge was shared in a very short time.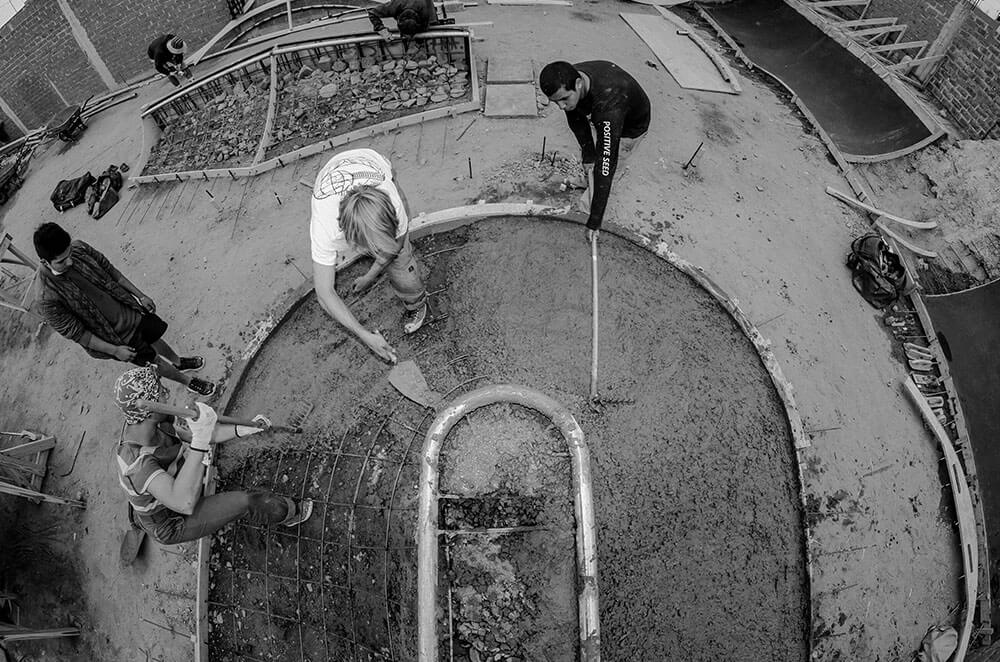 You took responsibility for the maintenance of the skatepark in Trujillo, do you think skateparks need more skaters to take ownership of them and how do you see the role of CJF Peru in advocating for more spaces allocated to skate infrastructure?
I think we need to involve more local skaters in the construction projects to have more union, now we are few involved but I would like to have more local people to work on bigger projects, these last weeks we worked on an obstacle with international volunteers from CJF Peru and it helped local people to realize the effort we do and dedication we have, and we could manage to involve a little more locals, helping with fundraising, a little with the construction and projecting us in future projects.
You were sponsored by CJF in April 2022 to participate in the construction of 740 square meters at the Centre Fiers et Forts children's home. Considering the size of this project, how did you feel about this opportunity and your thoughts on this specific conception that includes a wide range of details and texture in this 740 square meter design?
For me, the project in Morocco motivates me a lot. I learnt a lot of new construction techniques, the magnitude of the project and a lot of different details that in Peru we don't really see. What stood out for me from in the Morocco project was how important it is to have detailed construction plan and design: it facilitates the execution of the project, for example working in sections and have all the detailed dimensions to work carpentry or welding etc, it was a lot of learning for me, that motivated me to work on a future project and be better prepared.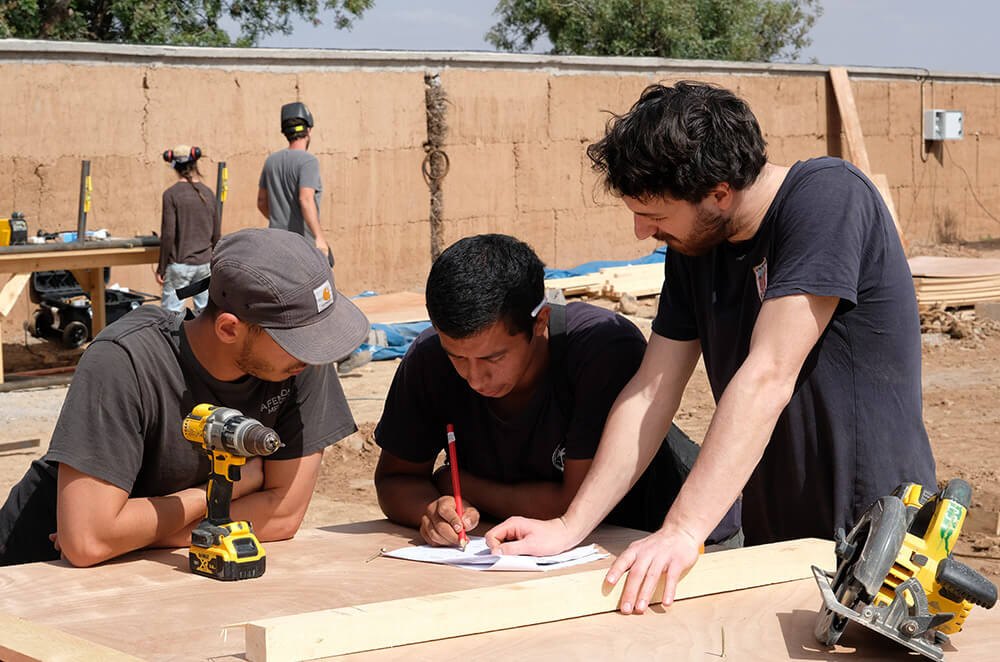 Only a few months after returning from Morocco, you were organising your first skatepark construction in Cusco, Peru, the first time being behind the whole project (from design to delivery, budget, logistics, scheduling and site management). How did you handle this new range of responsibilities?
It was a lot of responsibility and I needed to work on punctuality which, in my opinion, was the most important thing for the Cusco project. At the beginning it was quite difficult because it was something new for me to be in all the coordination, but I managed to fit in the time and then the execution of the project was a challenge as well, putting together my own plans, calculating materials, decision making, all that I learned better during the construction process. I was able to finish the project as I imagined it with the design and details within 45 days.
From the first skatepark construction you participated in during the construction of CJF at La Rampa in Peru to the project in Morocco and now that you can manage your own construction in Peru, how has your career in the field of skatepark construction evolved? And what are your main goals for the future?
I think it has evolved over time, experiences, achievements, mistakes that helps you to learn and continue with the motivation to learn more, also the CJF team, thanks to them I have been able to evolve not only in construction but also personally, now one of my main goals is to apply for projects outside of Peru to train me more in the field of design, management and construction and in the long term future is to build a great skatepark for CJF peru in Trujillo and continue expanding throughout Peru.
What do you think this new opportunity with the Skatepark School can bring you? What do you expect from the design classes?
It will bring me more professionalism to my work and new design ideas that in Peru we still do not see, I hope to learn more techniques to design and inspire me with new ideas and I would love to finish a skatepark for a future project in 2023 in Peru.
Is designing skateparks a craft you're looking to pursue in order to develop more skateboarding infrastructures in Peru?
CJF is my job for now and I feel there is still a long way to go to reach the goal of having a big project here in Peru and designing is the base to manage a construction project. I want to devote more time to design, to manage new projects and live from it, thank you !!!!
Join us next week for part 2 where we interview The Skatepark School founder Wade Trevean
---
Follow us to hear our stories from around the world, stay up-to-date and donate if you can: