Interview with Wade Trevean
Words by Lisa Jacob
Photography by The Skatepark School
Following up on our latest announcement about our construction apprentice Jhikson Akamine Garcia enrolling in the design course with the Skatepark School, we would like to introduce you to their mission to train skateboarders into the specific craft that is skatepark designing. For a skatepark to be used at its full potential and reach its community, it is a long path that starts with the conception stage in which a lot of various elements need to be assessed and questioned. We talked to Wade Treaven in order to get more in depth with the in and outs of the profession.
---
Wade, you've been building skateparks with NGO's around the world but you're also behind the development phases of a lot of parks at home and abroad, providing design outcomes, can you give us some background context from your journey?
I grew up skating whether it was sessions at the local car parks slappy kerb, urban spaces in the Melbourne Central Business District (CBD) to average ramps built in the backyard. Subconsciously the latter experiences perhaps directed my adult education where I studied civil engineering. With a higher education driven school it was the closest course to utilising and learning further hands on skills. During this time and through later studies I worked at PSC, a well-known skateshop. A job that was flexible, was immersed in skateboarding and importantly offered a connection to Darren White, a friend who started my journey of designing skateparks. Upon commencing working with Darren at Convic, I questioned how long this profession could last, how many skateparks needed to be designed and built? Going by the fact I have been doing it for over 15 years, it seems a few and certainly a few more moving forward. Whether through project delivery its urban areas of Melbourne to last week working with indigenous communities in Central Australia.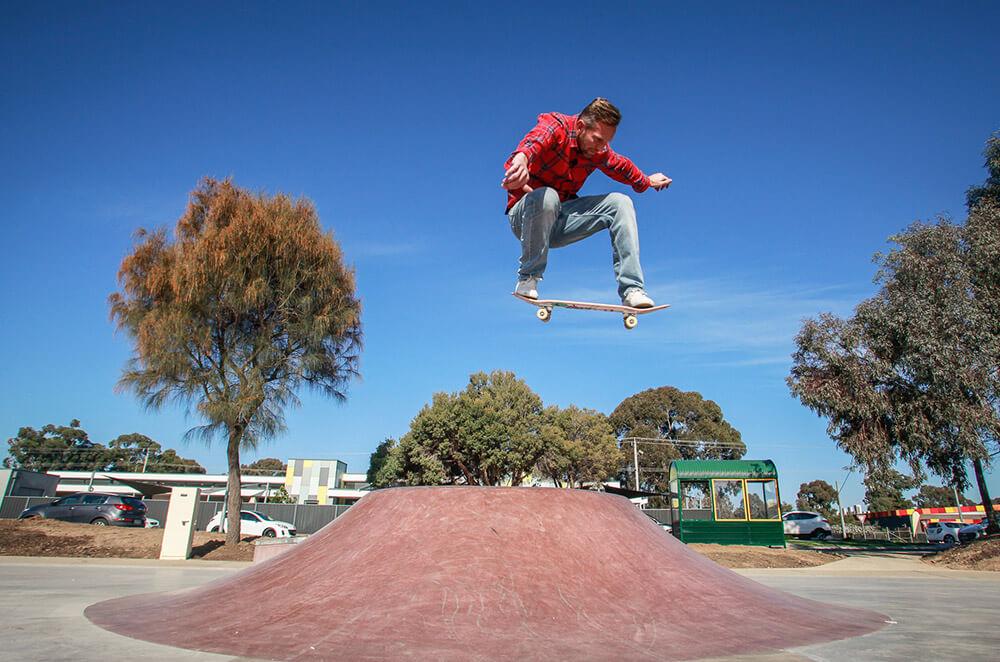 Having now established my own company (Eastbywest) that revolves around skateparks I have the fortune of still working in collaboration with my now dear friend Darren (Baseplate) on projects here in Australia and beyond. Importantly I have ensured my professional time has flexibility and commitment to combine my two passions of travelling and skateparks through designing and building parks overseas in a volunteer capacity amongst all of my other projects back here in Australia. Experiences that hold special places whether it's the allowance of working with my hands, spending quality time with a bunch of now international mates and of course delivering the benefits to under-served communities from Mozambique to Palestine and numerous places in between.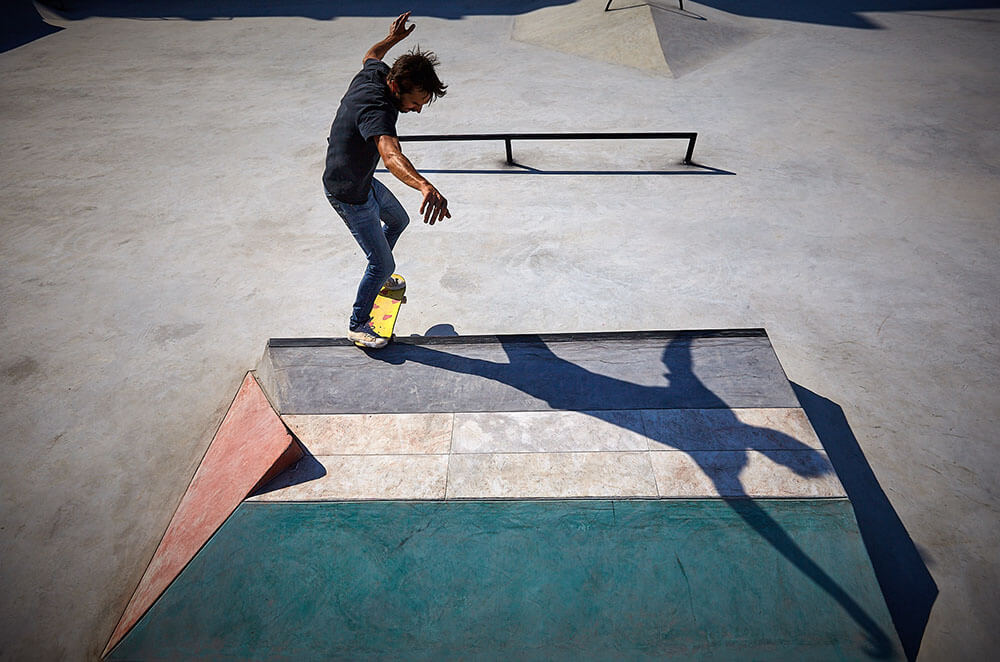 To my knowledge, The Skatepark School (TSS) is the first institution to propose skatepark design courses by professionals from the industry. How did anyone else learn the job and what more does the TSS have to Offer?
Traditionally, the gateway into Skatepark Design has been a degree in landscape architecture, the degree most closely related to skateparks considering there isn't yet a specialised course. The important skills of this course is how to respond to a site, ensuring a design utilises its opportunities and constraints to integrate the space for successful ongoing and future use. These defining considerations all come prior to taking into account the actual technical skate function. Obviously this latter part is equally as vital although missing from a traditional course.
This approach is an expensive 4 year (or 2 year for Diploma in Building Design) commitment offering an overwhelming amount of information that may be largely irrelevant when designing skateparks.
Acknowledging the above along with the financial boundaries of university along with people's more specific interests we developed TSS to offer a more streamlined and targeted course. We don't discredit the learnt outcomes of a degree but what if you realise you don't actually like it? Therefore we have designed short courses that are solely based around the design of skateparks. TSS compresses your timelines so you can see in a matter of weeks if Skatepark Design is the right fit for you. Whether it's for those who have a passion for design and want to transform their ideas to those wanting to one day work in the field through its ability to deliver professional design documents and/or construction plans.
And importantly we're keen to see what the next generation can deliver in their skatepark designs.
You are offering CJF apprentice, Jhikson Akamine Garcia, the first scholarship to TSS, how do you see social aid within the skatepark & skateboarding industry and how can the industry and charity sector work together?
Yes, we're really excited to offer Jhikson a grant to TSS. He clearly fulfils our selection criteria of offering grants to those from under-served communities coupled with his clear passion and ongoing commitment to skateparks.
'Skaters should have access to education and skills so that they can design their own skateparks and help build up their community! Whether that's someone from a remote community in Australia who doesn't already have the necessary skills to a budding designer in Libya and beyond.'
Perhaps you need the design skills to try and get a skatepark built in your community, you've always had a passion for skatepark design but couldn't afford any courses or due to your under-served community you don't have the guidance to further develop your skills etc…
Personally through experience I see 'giving back' as hugely rewarding. Some of my best life experiences have been through volunteering in design and builds overseas with other like-minded people. We all know the benefits of skateboarding so it's amazing to pass these onto other communities that otherwise mightn't have the same experiences through the lack of opportunity. Therefore for TSS it's a no brainer on how Darren and I can extend our existing social aid capacity through our scholarship program.
In reference to building social projects, as one would expect they take time, money and equipment. Time is what we currently offer as experienced professionals whether that's through design and/or construction volunteering. It's the money and equipment that often encounters shortfalls and this is where the skateboard industry can step in whether it's through contributing a portion of their sales/profits and/or goods. Skateboarding gear is crucial as in most instances these communities don't have skateboard shops and therefore with a new park built it's nearly pointless without goods including setups and safety equipment through to shoes and tools. As stated as individuals we know through personal experience the benefits of skateboarding therefore I am sure this extends with the inclusion of commercial benefits to the skateboard companies. It should be noted that there are plenty of examples where skateboard companies have given back to the scene whether through financial donations to the necessary equipment etc…
So in short there is certainly a sufficient amount of volunteers who are willing to commit to the building of these projects with the main sticking point being funding. These monetary contributions are not only for the builds but ideally to help run the numerous NGO's that tirelessly deliver and activate these projects. The commitment of running an NGO is something that should be financially supported to ensure its ongoing health and success. I realise it's not as exciting to pay for administration costs over concrete but it all contributes to the end product, a skatepark in a community that otherwise wouldn't have the means.
What do you think makes a difference, design wise, in a good skateboarding infrastructure and a great place where the skateboarding community can develop and grow?
'Firstly, engaging with locals. In the end it's their space so it's essential to gather as many ideas from the entire community as possible whether it's the local skaters who might be pushing for a plaza style park through to the arts community who can assist in incorporating local identity to the space and everyone else in between. Many of the parks I have designed are in communities I might never visit again so it's important where possible to include these ideas into their new space rather than thinking what I would like.'
Site… Where is the skatepark? If it's tucked away in a corner where no one can see it nor necessarily feel safe and therefore doesn't encourage wider participation then it's not off to a good start. A skatepark through its ongoing use by the wide spectrum of the community should ideally be in the centre of the community, celebrating its ongoing active and exciting use which will naturally encourage further use whether it be a young girl who has never skated before through to spectating older members of the community.
Building on from its location I believe in the value of designing the skatepark that is specific to that space rather than plonking any design onto the site. This approach ensures a design works with the site but also importantly is specific to the community. This is achieved by those earlier design considerations rather than initially considering the height of the hubba or if the slappy kerb should have 60 or 70 degree faces! i.e. How do people access the park? How can it connect to existing infrastructure/spaces? What is happening with the topography etc… Collectively these will start to define the design of the skatepark.
The skatepark should include infrastructure that caters for all of those wanting to use the space with seating as a minimum. Skateparks are free and captivating spaces that allows for numerous use which includes simply socialising. Whether it's a skater wanting a rest through, those that want to build confidence before entering to teenagers hanging out they should offer more than just waxed ledges to sit on. From seats to things like shelters, bins, paths, planting should be considered for the finished space.
Finally, and most importantly, the skatepark needs to respond to the demographic, ensuring it's a space that represents the current skills, types of skating and is unique. Ideally a consultation has been held where through conversations ideas of what type of facility and what specific elements should be included. This list can be ordered in priority to ensure all if not most get included in the design. Laid out in an open and engaging arrangement to ensure flow through the entire space, allowing for progression and interest for those already advanced.
Oh and it should be built by professional skatepark builders not someone who maybe is the cheapest and has poured a few driveways.
Skate NGO's often build countries their first ever skatepark, how should this fact should influence the design process?
Keep it simple… I don't believe the inclusion of a deep bowl or other such advanced elements will initially benefit a new skate community. Instead, through its perceived challenge, it would potentially deter users which in turn is the opposite of the desired outcome. Yes, it should include some more advanced elements to encourage progression but the limited budget and time should not focus on this alone. Although in more developed countries we may get tired of traditional parks that feature the standard ledge, mini ramp, split level with hubbas etc… It should be remembered that this is not traditional for the fresh skate community. Saying this, these are some staple items that can be included in any park. A space that offers simple flow is beneficial to all whether it's the kids starting out riding down the ramps seated through to the swiftly advanced who can engage with all of the elements as they pump around the space.
Also sticking to this mantra is less is more. Rather than cluttering the space with a heap of elements, ensure there is sufficient space for users to simply practice going back and forth or flowing through the space. This also offers benefits when workshops are being held. There is joy in seeing beginners practice on the flat to then making their own loops throughout the entire park as they first start out despite snaking some lines.
What in your opinion, should a skate charity should provide for the locals during the construction phase of a skatepark?
I think one only needs to look at the work CJF is doing with their Planting Seeds Apprenticeship to how and what can be achieved. Their documented program of mentoring through step-by-step procedures of a build is a life changing program to follow. This is clearly evident in the training of Jhikson on an initial park in his home country of Peru, supporting his travel to Morocco for another build to now managing builds back in Peru. Chapeau!
Unfortunately not all skate charity projects have the required time for such comprehensive outcomes and therefore it needs to be altered for such projects. During these builds, we're definitely still passing on the skills where appropriate but also working with locals to establish initial ownership over their space. It's a pretty proud moment for a local when they can stand back and acknowledge that they helped create a certain aspect of their park whilst ensuring it gets looked after. On a more basic level, it's very rewarding when you see a local trowelling concrete for the first time no matter the finish.
What are your thoughts on the skatepark charity sector development and any advice for the future?
Reflecting on the previous question, in an ideal world there would be no need for the skatepark charity sector. Through previous and existing work of shared skills and empowerment, sufficient knowledge and passion has been passed on that communities can themselves deliver these projects. Recently this has been demonstrated in Iraq where, after working with locals on the initial and extended skatepark in Sulaymaniyah, they recently designed and built their own space. On a commercial and larger scale 100 Ramps was born out of charity builds with Make Life Skate Life and now have their own company delivering skateparks in India whilst deservedly being paid.
I appreciate this won't happen overnight (and I'll miss working on these projects!) but as demonstrated it can happen. With the TSS scholarships offering design education, CJF successfully training builders and the many other skate NGOS making their specific contributions, it's certainly going in the right direction.
And finally thanks Lisa for all that you do in this field, your tireless passion is clearly evident whether its on site during builds, your published work with Forever Playground to the positive impacts of the numerous projects you've now delivered. Merci!

---
Follow us to hear our stories from around the world, stay up-to-date and donate if you can: