Broader transmission: creativity exposure, participatory culture & learning opportunities
Words by Lisa Jacob
Photography by Jesus Rengifo Saldaña, Lisa Jacob, Tim van Asdonck, Kyrian Dorne, Jago Stock & Amaia Etxeberria
Pedagogical insights
Skateboarding gives us the capacity to be the best at learning new things as long as we get passionate about it.
By growing up with perseverance to try over and over until we succeed, we are not scared by failure as we learn to embrace the fall, knowing eventually we will rise. As we also know we need to put in the work to achieve anything worthwhile.
So the question is not whether any of us can learn something new or not; it is whether we get the opportunity to experience something new and whether we can instill the passion in those we teach.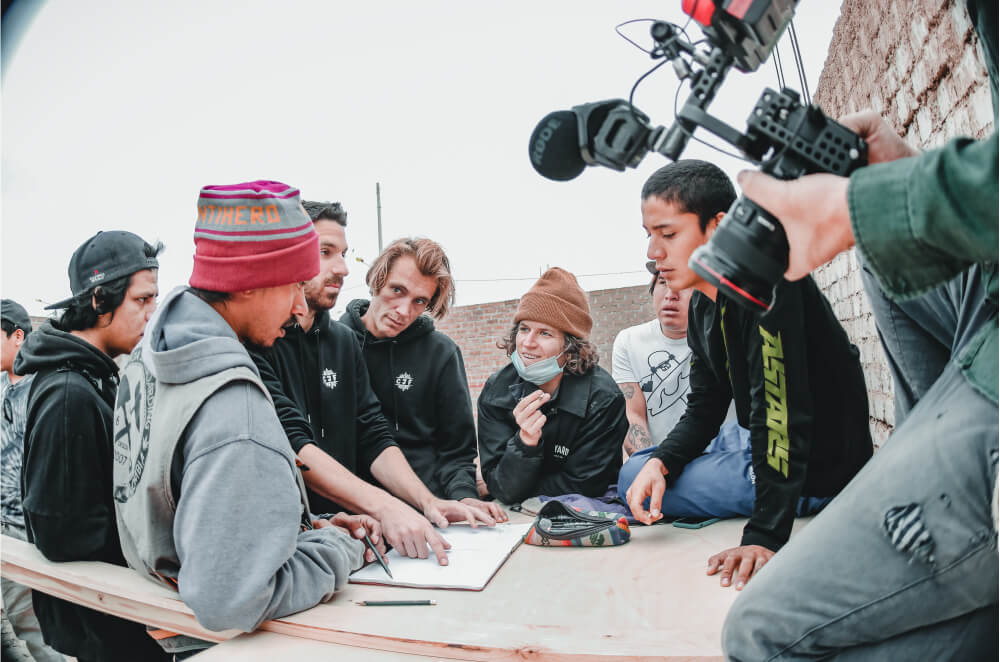 Planting Seeds Apprenticeship in Peru, 2021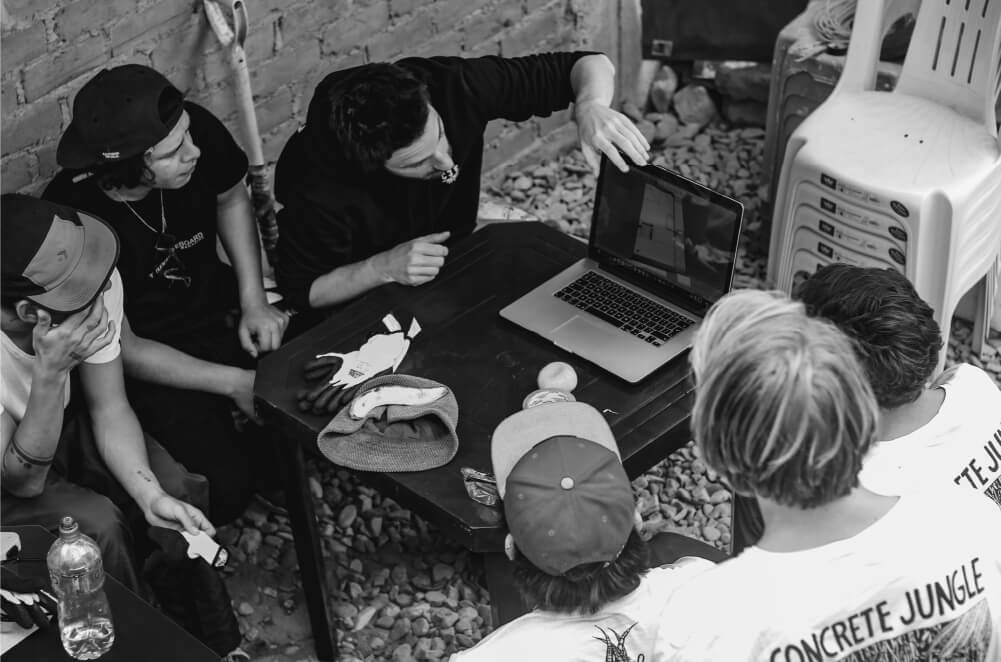 Planting Seeds Apprenticeship in Peru, 2021
As Ben Powell underlines in his "Learning Curves" piece :
'Current pedagogic research foregrounds the importance of concepts like collaborative learning; student empowerment; a reduction of the perceived distance between learner and teacher; learning through doing; relationship and community building; embedding joy into study; exposing pupils to a multiplicity of perspectives and the encouragement of autonomy and agency.'
This pedagogical perspective makes skateboarding a perfect environment to share knowledge and skills within its community. Skateboarders inherently learn new skills, each being like a new trick in our bag that allows us to ride new fields.
I deeply believe the key is to get inspired by one another to enhance our own creativity. If you grow up in an inspiring environment where the culture is always being nurtured by new ways of expression, you will most likely be surrounded by a vibrant scene showcasing an infinite scope of possibilities.
But if you grow up in an environment where not much is happening, you will not get the same chances at being exposed to learning opportunities.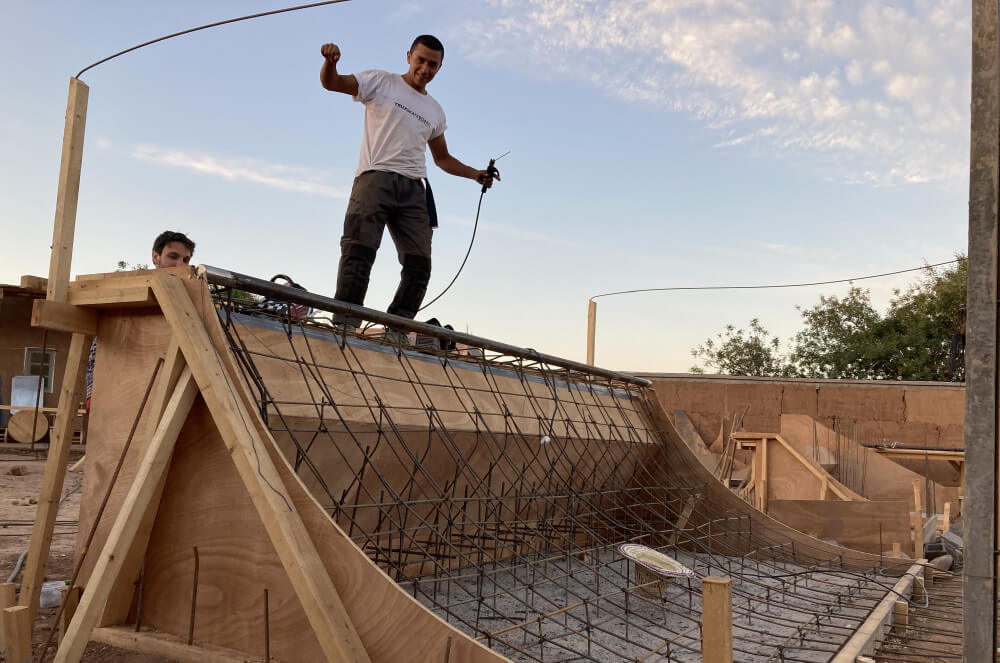 Continuity of Learning in Morocco, 2022
Planting the seeds and building up active communities
Working in a context of economic deprivation and lack of opportunities, Concrete Jungle Foundation (CJF) started the Planting Seeds Apprenticeship (PSA) program to share expertise in the field of skatepark construction while building skateparks for emergent skate communities around the world, teaching and sharing practical skills that can be useful in broader construction jobs as well and provide youth employment during CJF builds.
We want to see local youth from our projects being able to grow and develop their skate community further. To become active and engaged members of their community, the youth need to be at the forefront of every new development that will build their scene. Being part of it is the first step towards taking leadership in shaping skateboarding culture.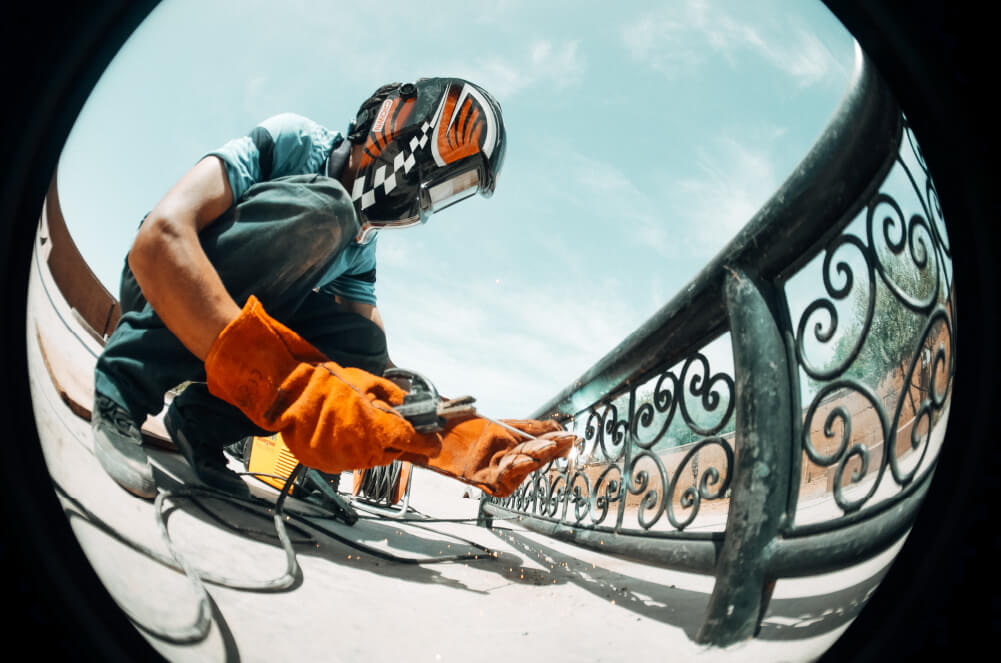 Continuity of Learning in Morocco, 2023
Skateboarders all around the globe share the same passion and dedication for making it happen for themselves, what we call the Do-It-Yourself culture or, in social skateboarding, Do It Together to emphasise its participatory side. Because, at the end of the day, it is as much about involving others in our endeavours to empower them as it is about getting things done for ourselves.
Skateboarding serves to install an entrepreneurial mindset that, if well nurtured, can lead us to be positive change-makers within our community and perhaps within the broader society.
At the very start of every scene, before the DIY bug spread among all, there had always been a few individuals leading the movement and pushing their community forward. They were the inspiration for everyone else to understand what could be done, how it could be done and that you don't need to wait for someone else to satisfy your needs.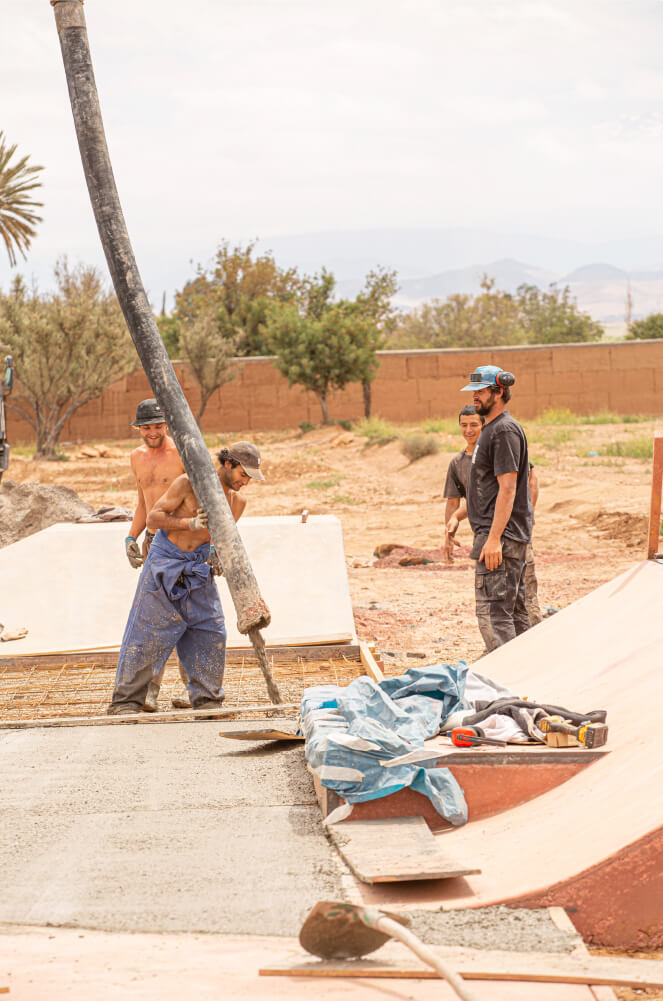 Planting Seeds Apprenticeship in Morocco, 2022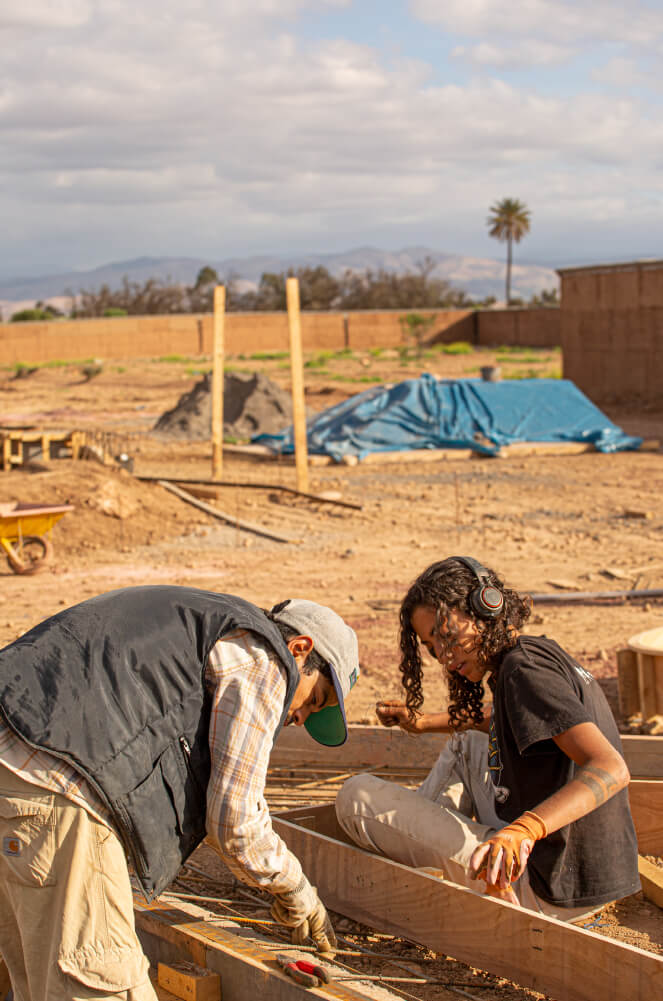 Planting Seeds Apprenticeship in Morocco, 2022
Shaping culture through social change
Being able to do something is the first step on the path to autonomy; it is reclaiming power and therefore becoming an agent of change in society. Culture is and will always be growing and being reshaped by new additions and inspirations coming from all individuals willing to take part in the scene.
What is culture, and how is it evolving? If not by getting inspired by what has been done and in doing so, becoming the one who will get things done, inspiring others as well to do something for themselves and contributing to the broader culture. It is a virtuous cycle that needs to be fostered to keep rolling.
'Inspire others to inspire themselves.' (Pontus Alv)
We were lucky enough to get inspired by many individuals, collectives and organizations that took matters into their own hands and changed for the better the face of social skateboarding worldwide. We got to learn a lot over the years, on and off the ground, and share in return our experiences and skills with the local youth in the communities we are working with.
Certain types of skills like construction-related skills, project management skills and pedagogical skills are knowledge-based skills, skills that need to be taught and practiced. Within the PSA program at CJF, we take the time to share hard skills such as masonry, carpentry, welding and all knowledge related to the skatepark building process. It is not so easy to be exposed to skatepark building experiences when you do not know anyone working in that field, let alone live in a country where there is no such thing as a skatepark industry.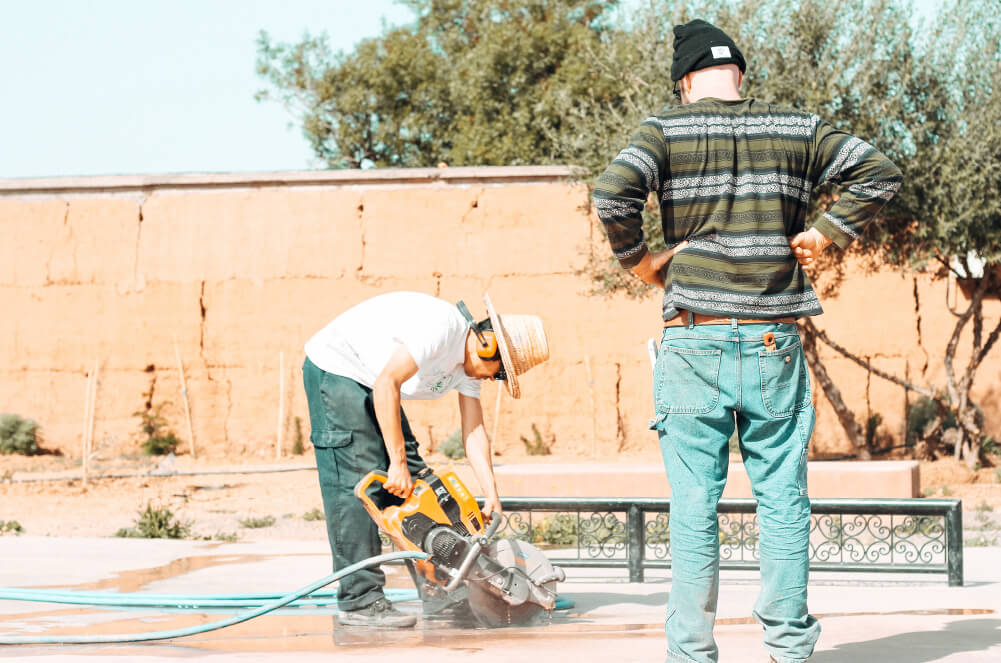 Continuity of Learning in Morocco, 2023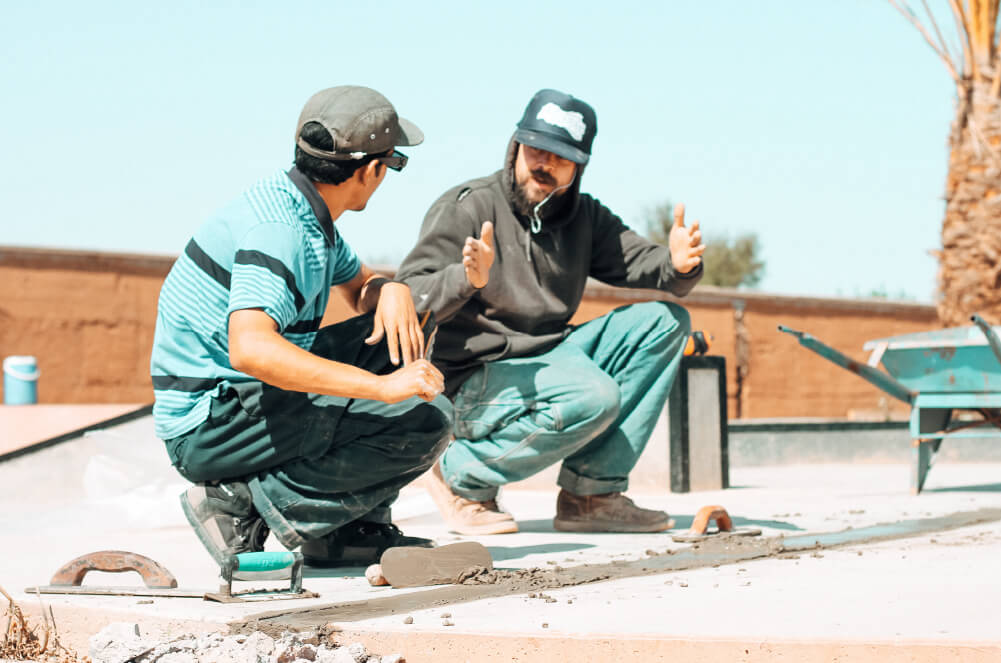 Continuity of Learning in Morocco, 2023
We have also noticed that sharing certain skills will then ask for other skills to be acquired to keep evolving. If you share the knowledge of designing a skatepark, you need to share the knowledge for it to be built. And afterwards, organization, space management and infrastructure maintenance need to be developed, as well as a focus on youth enrichment … etc. We could go on and on with all the different values, skills and knowledge that can be acquired through skateboarding along the way.
We are lucky to have a passion for an activity whose cultural background allows for unlimited enrichment experiences. Skateboarding is an endless creative activity that shows no evolution limits so far. Learning simply never stops. Same goes for its culture; there are countless opportunities to learn new things revolving around skateboarding, such as photography, videography, various art forms, digital skills, construction skills, handicraft skills, to name a few.
We've noticed within CJF's framework, sharing all those beautiful things that have, at the same time, nothing and everything to do with skateboarding and go far beyond the pure act of skateboarding is how we can provide unique opportunities for life experiences.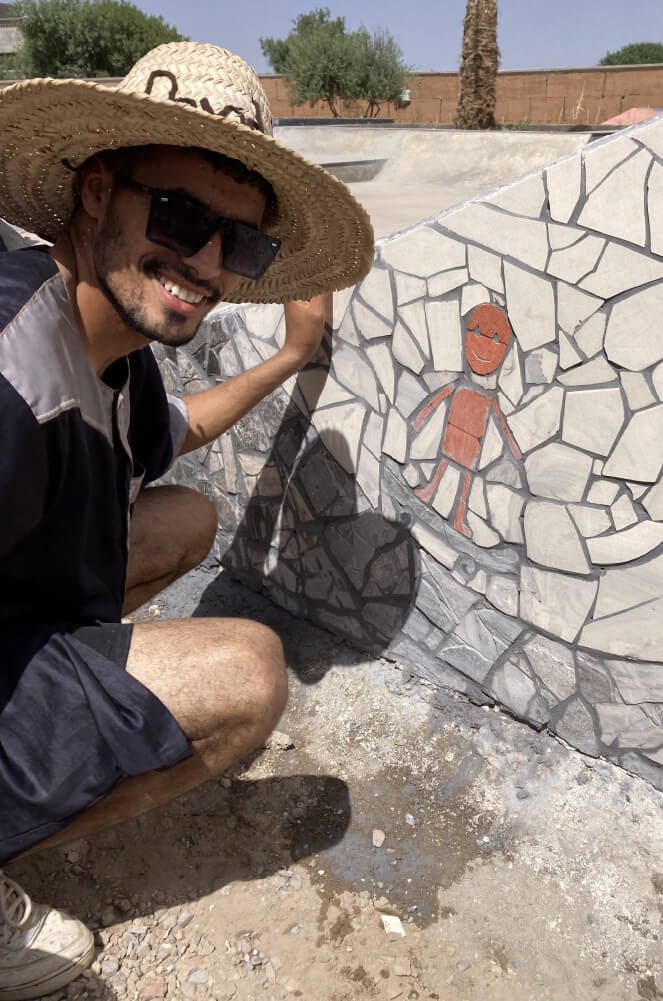 Continuity of Learning in Morocco, 2023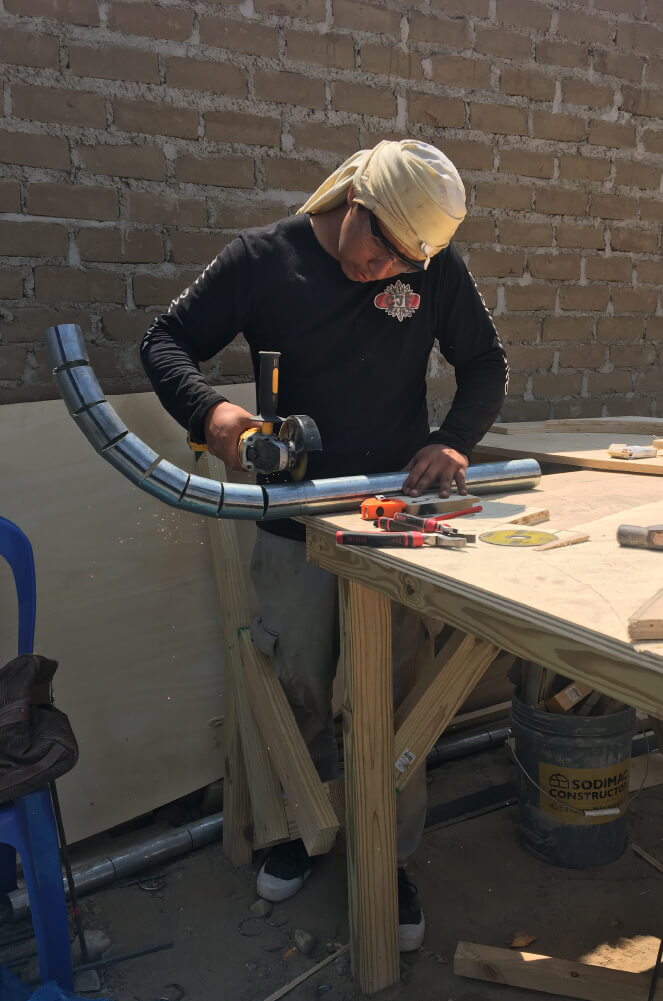 Planting Seeds Apprenticeship in Peru, 2021
Give learning a chance
We are also aware that learning something new takes time and requires multiple chances at trying, such as skateboarding itself. Our aim is to provide as many opportunities for our apprentices so they can first try, fail and eventually succeed, so they can learn and develop expertise in certain fields they might get passionate about.
Jhikson Akhamine Garcia, from CJF Peru, is a good example of someone that got exposed to skatepark construction and got so passionate about it; he showed extreme interest and motivation, but had very limited opportunities in his country to develop his expertise in this field after participating in a skatepark and a bowl builds in Peru with CJF international.
But then what? How do you get to pursue your interest if no one will provide the opportunity for you to do what you want? Of course, he got the DIY bug and took matters into his own hands when it came to repairing his local skatepark and building a new obstacle at the park. He made it happen for himself to keep on living new experiences in the skatepark construction field, which is why we needed to give him the little push that could be a game changer for both his learning path and his motivation to lead the change in his own community and beyond.
Indeed, we realized pretty fast that a 4 weeks construction apprenticeship is the seed which got our apprentices hooked and that most of them were eager to do more, learn more, and experience more. This is how the Continuity of Learning program was born. It can be about skatepark construction, but not only, it is about hard skills, about opportunities, about mobility, about meeting people, about new experiences and about personal and professional development.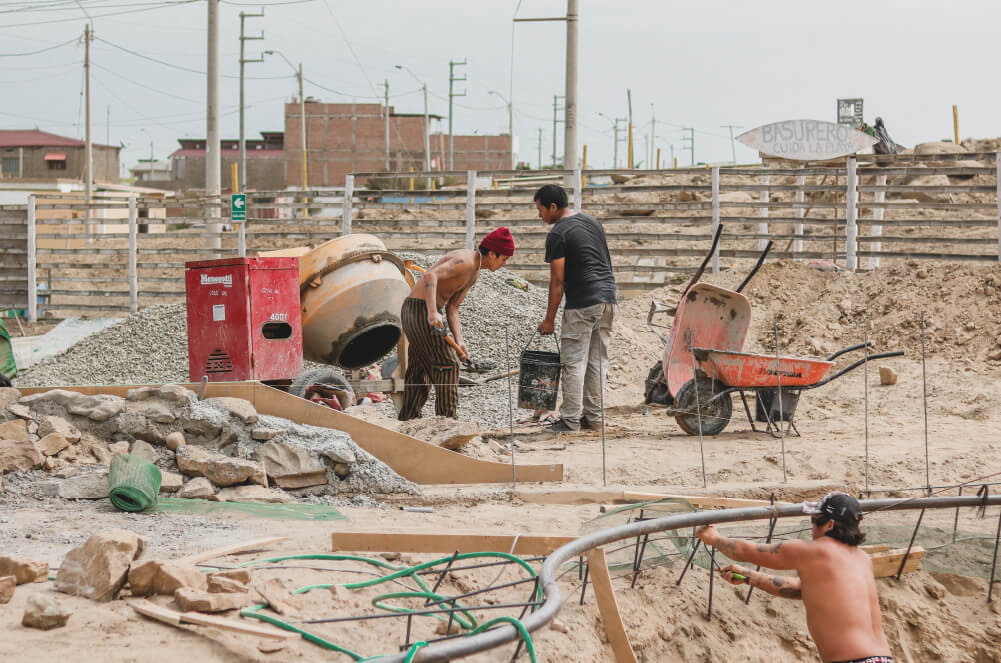 Continuity of Learning in Peru, 2021
Stories from the ground : Peru
To provide Jhikson with a new experience in learning skatepark construction, CJF sponsored his trip to Morocco, where he was invited to build the 750 sq meters street plaza alongside professionals from the industry coming from the Netherlands, Germany, France, England and the USA. He got to build his first free-fill ramp and his first doorway in this bigger-scale project. He also got to fly out of his country for the first time.
'Providing mobility opportunities and broader cultural experiences are also part of the Continuity of Learning as much as teaching hard skills.'
The motivation Jhikson gained from the Morocco project exceeded our expectations. He returned to Peru to build another skatepark in the Cusco region. But this time, he wasn't just a construction volunteer; he was asked by the partner NGO Oye Lena to lead the whole project, which made him work on a broader set of skills as he had to design the skatepark, budget the project, put up a proposal, direct a construction site and managed the funds and a team to who he ended up sharing the knowledge with.
'The loop is closed; those who've been taught became the teachers.'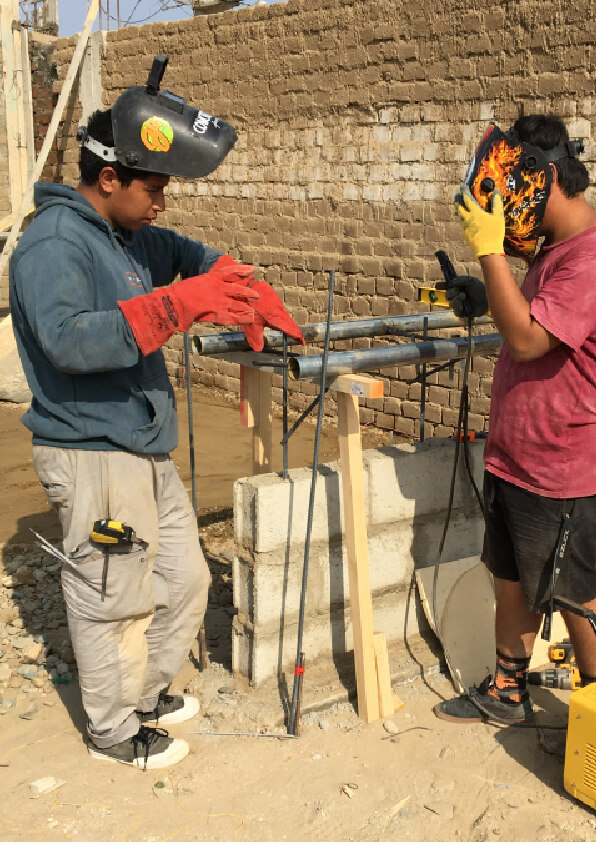 Planting Seeds Apprenticeship in Peru, 2021
Expressing his desire for skateparks conception, after learning the basics of Sketch Up on his own and designing the 170 sq meters Cusco park, we partnered with The Skatepark School, experts from the field and pioneers in skatepark design education created by Australian industry professionals from Baseplate Design & East by West. TSS launched their first Sketch Up online course dedicated entirely to skateparks and granted Jhikson a free spot in their program!
We believe digital skills, complementary to construction hard skills, are much-needed knowledge to be able to make a change, as conception is the first step in getting anything done on the ground.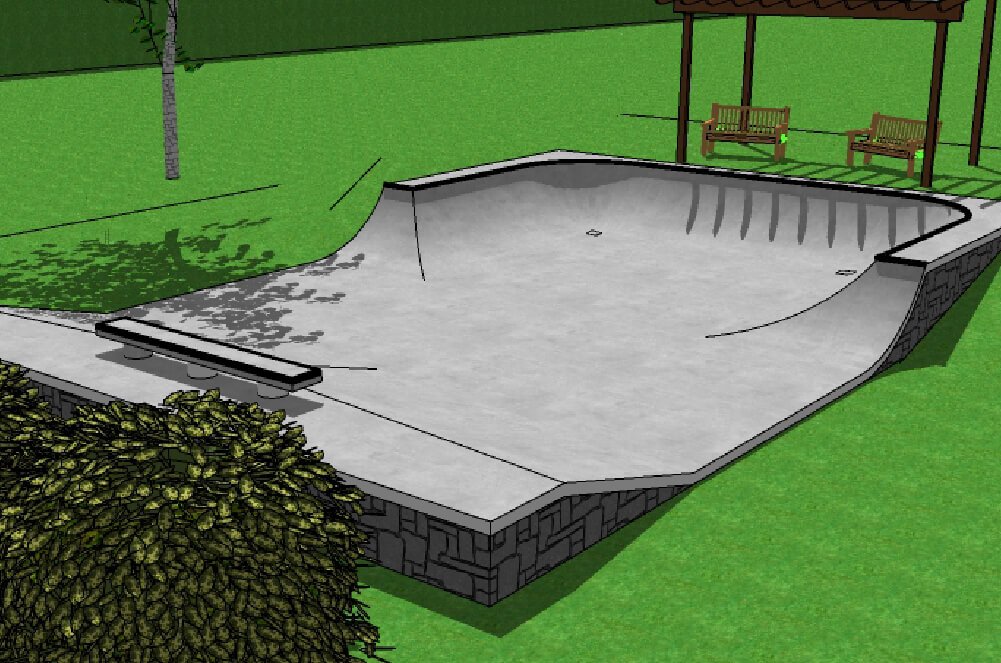 Skatepark design, 2022
Our longtime partners New Line Skateparks saw Jhikson's potential and the beneficial outcomes generated by new opportunities for our program apprentices and, willing to be part of his growth, offered him the chance to join their professional team in Cambodia to extend the Skateistan facility.
Working with experienced people from various international companies is a great chance to be exposed to numerous techniques and processes that can make a difference in a career. It is never settling for what we know and always remaining open for enrichment.
'Being exposed to new things and new ways keeps the desire to learn alive.'
Jhikson just got black from Ecuador, where he was invited to build alongside the Wonders Around the World crew, our NGO friends. In this project, he was given the responsibility of setting up the bowl copings. Needless to say that he has learnt a lot by being given the trust and the chance to show his potential. He is now more motivated than ever to grow his scene, build more parks in Peru and train a local team, passing on the PSA programme in his turn.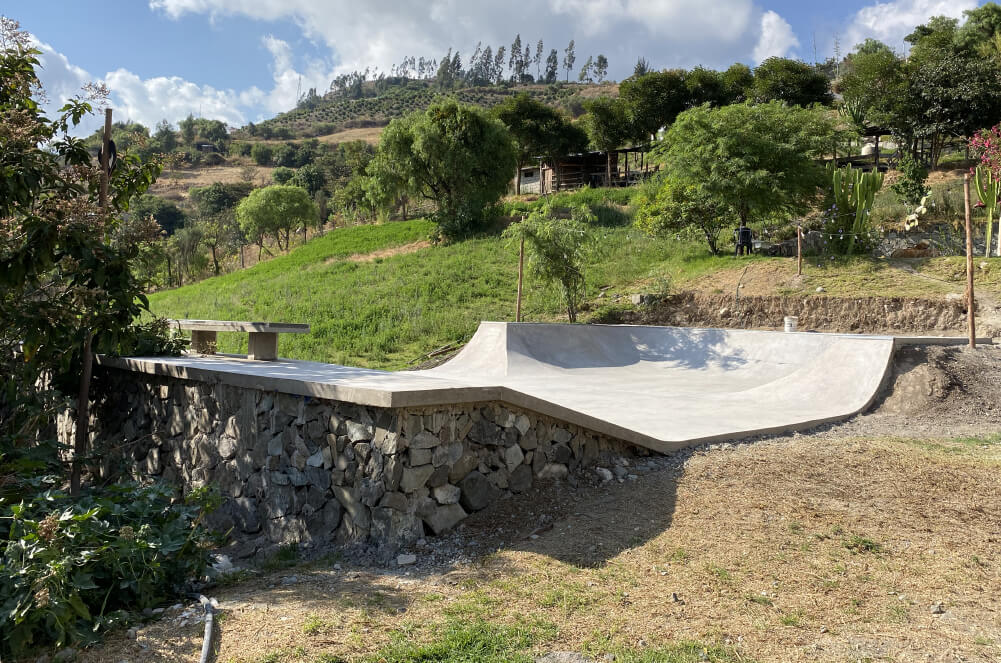 Oye Lena's skatepark in Cusco region of Peru, 2022
Stories from the ground : Morocco
Jhikson is a very good example of how getting a few chances at trying and learning can change your life, but he is not the only one we've been working with in the Continuity of Learning framework. Indeed, we recently came back to Morocco to provide new experiences to the Moroccan apprentices while giving the skatepark a bit of maintenance.
The aim of the Moroccan Continuity of Learning trip was to teach the locals how to maintain skateparks in good condition and enhance their ownership over the space. But as we know, creating something new is always more appealing than repairing anything. So we added a mosaic project in the mix and some welding workshops. It is all about broadening horizons and providing diverse skill sets for our apprentices while offering exciting enrichment activities for the children from the centre.
We took the mosaic mural project to new heights by incorporating a unique steel element into the design. This provided an opportunity to play with textures and materials and proved to be an excellent exercise for Mohamed Essafiry to showcase his newly acquired welding skills, honed through the Planting Seeds Apprenticeship program during the skatepark build. We're proud to say that he's now a master of the craft, taking our creative projects to the next level.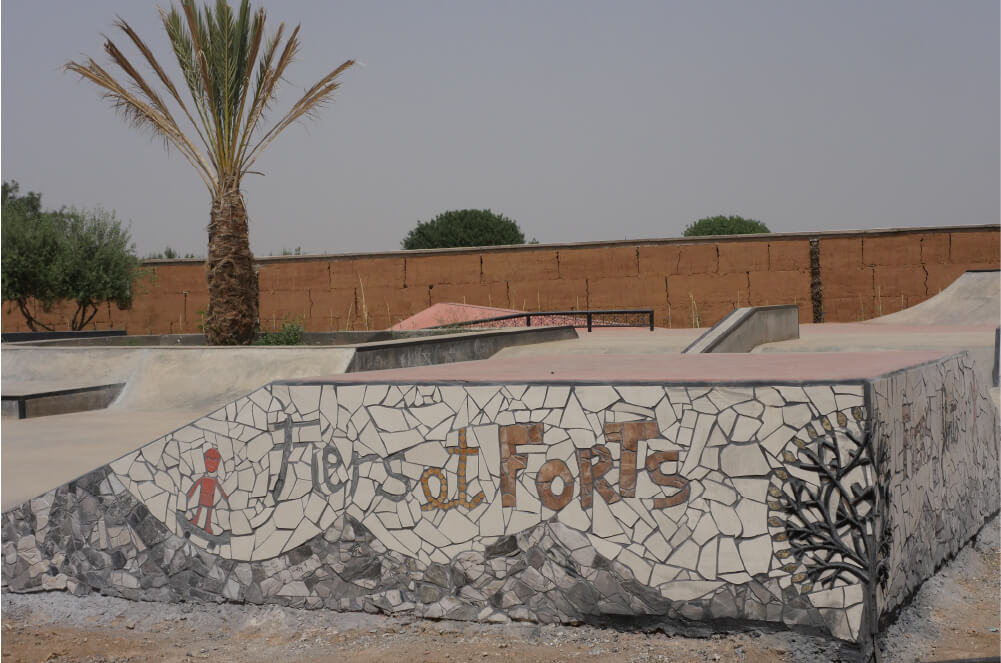 Fiers et Forts Skatepark, Morocco, 2023
Kamal, CJF Morocco skatepark manager, was really into the mosaic project, making it a success during preparation with his fellow apprentices and its execution with the kids, leading both phases like a pro.
While Hanota, CJF Morocco Head teacher, was more into the skatepark maintenance jobs, rounding up edges, buffing concrete, patching holes…etc, showing proper love to his work and play space.
We had 3 different side projects on this trip, 3 apprentices as well. They ended up enjoying everything, but each of them showed an inclination for something in particular, and none of them had the same preference, which is why anyone should always experiment with new ventures. Try something you have never done before, and you might surprise yourself!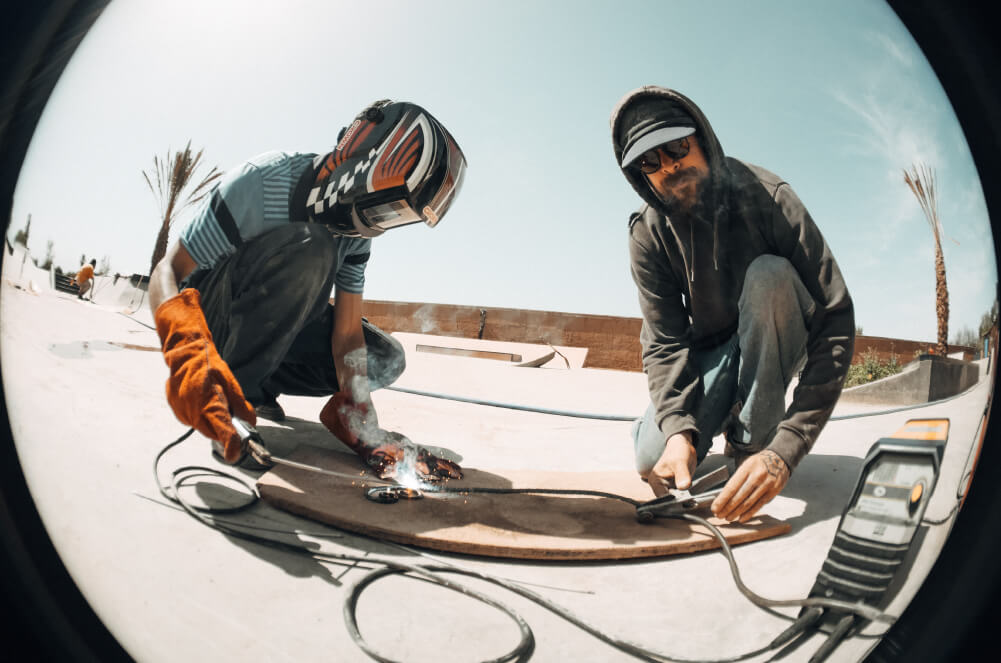 Continuity of Learning, Morocco, 2023
The Continuity of Learning is never ending within CJF. Kamal and Hanota are learning to speak English (Jhikson as well), how to use a computer for work, how to be organised and how to manage a space and its service users. The more you learn, the more opportunities you will get.
By providing multiple and various learning occasions, the youth gets to have a shot at different crafts, acquire new versatile skills, be exposed to inspirational culture in its countless art forms, meet amazing fellow human beings and live unmatched life experiences. And even better, through all that, they get to know themselves, find a passion, shape their community, be part of the culture and pass on their learnings, inspiring the generations to come.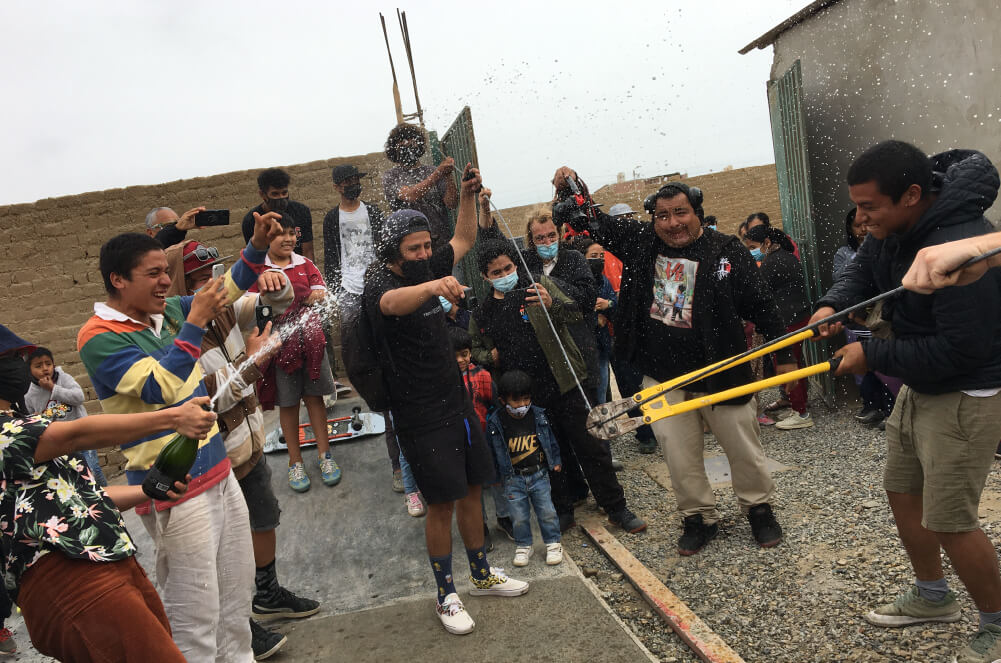 Planting Seeds Apprenticeship, Peru, 2021
---
Follow us to hear our stories from around the world, stay up-to-date and donate if you can: