Kayla is our 2022 Women's Leadership Award winner, here's why
Words by Sita Narayan-Dinanauth & Kayla Wheeler
Photography by Pete Beng & Danielle Myers
Kayla's determination to do what she loves – skateboard – came at a cost she was determined to ride out when she left home a few years ago and in 2022, it seems to have paid off. She studied computer science, she's doing the sport she loves while being a CJF Edu-Skate teacher and she has a few real-world life-lessons she can share with the women of Jamaica along the way. In 2019, she was instrumental in building Jamaica's first street skatepark with CJF. If anyone is in a position to shape female skateboarding in Jamaica in the years to come, we believe it's her.
"I'm a skateboarder and a female who left home pretty young compared to many females in Jamaica. I've been on the road and I've been on my own a lot so I do have advice that I can share with young ladies, even though I'm not certified. Things like being smart about your actions, not putting yourself in danger are really important as a female here."
What are the issues that local women in Jamaica face that could be helped by a CJF award like this?
"I think as women, we can teach men in Jamaica about respecting our boundaries – we have boundaries and we have a purpose that doesn't involve just staying in the house."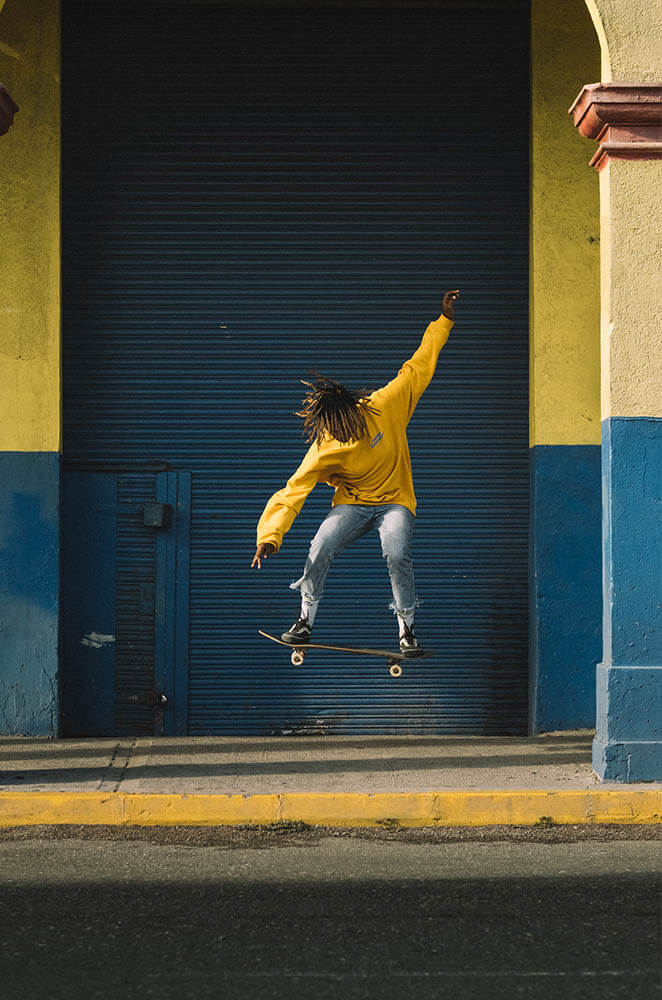 Kayla in Jamaica, 2021
We discuss how, by reaching females aged 6–16 at the skatepark, she can teach them about harassment before it happens.
"With this money and women's sessions, I definitely want to talk more about boundaries, harassment where it's appropriate and give them some insight on what to expect at the skatepark and how to handle certain situations in the best way possible. I think it's sad that in Jamaica, I feel I need to dress in a masculine way when I'm walking down the street. If I dress in a feminine way, I'll be harassed by men and attract unwanted attention. Even when I do dress in a masculine way, you hear men asking: are you gay? They always have something to say."
Does she think the CJF Freedom Skatepark is a place where females feel uncomfortable too?
"No actually, it's a new sport here so women at the skatepark don't get harassed. A lot of guys here are usually busy skating so this skatepark is a comfortable place to be as a girl."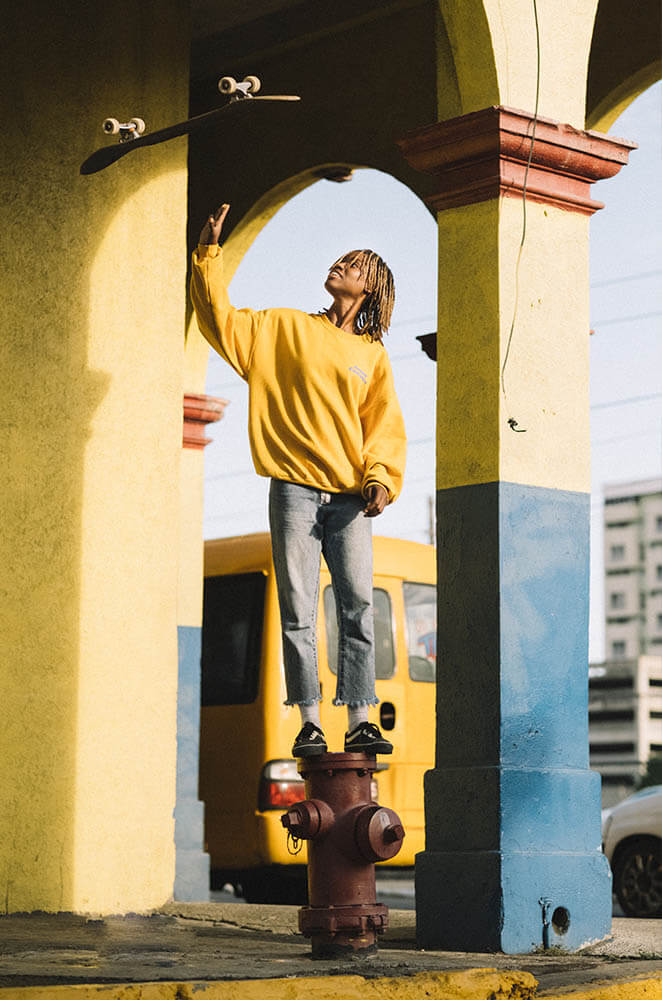 Kayla in Jamaica, 2021
What was her role in building Jamaica's first street skatepark?
"I left home when I started University to study computer science and I was skating the gully so I started a project to build my own skatepark. I reached out to a lot of places who I knew funded skateparks and places like CJF. I got a lot of support and we started building the park but we were just about to pour concrete in the bowl when a few things out of our control stopped the project."
Fortunately, she didn't have to wait long.
"Luckily we stayed in touch and CJF got me an apprenticeship. They got me somewhere to stay so I could be part of the building the whole time. And I met a lot of people from all over the world."
Although the skatepark may be a great space for young women, many in the area didn't know about it until Kayla hosted a skate event for local girls.
"A lot of parents or ladies reached out to me, a lot of them said they were scared to come because they were worried about being the only girl or parents were worried there'd be no one to help them out with skateboarding."
And many have already asked Kayla to be a mentor.
"I gave a young girl a board and she said she had someone to look up to now she'd met me and she's been coming ever since, has become really good at skating. Parents are reaching out to me after the Skate Ja event wanting me to be a mentor to their kids."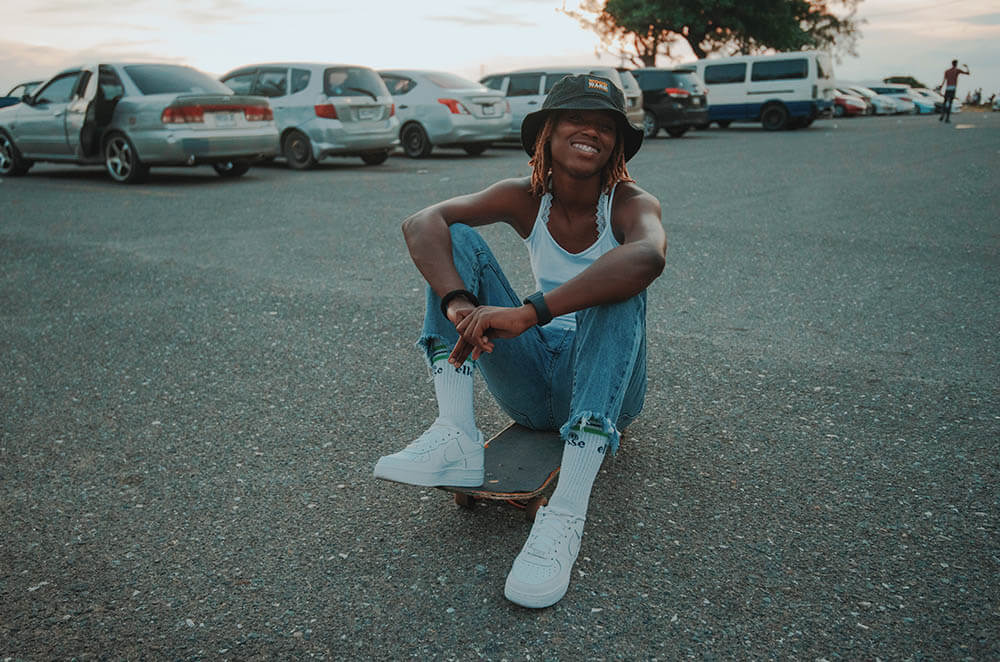 Kayla in Jamaica, 2022
What else can we say about why we've rewarded Kayla with $116,200 JMD to further female empowerment activities in Jamaica?
"Kayla Wheeler was one of the first local skaters we came in contact with when we started working in Jamaica, and it was clear she's a determined, self-motivated and kind-hearted person that's motivated to do good through skateboarding especially when it comes to the women in her country."
Says Tim van Asdonck, CJF Programmes Director. One pearl of wisdom that comes across from Kayla is that when you love what you're doing enough, you don't have time to care too much about what others think.
"I grew up in Jamaica and I move around the island a lot because I chose skateboarding and my family didn't support it, so I have to find places to sleep and to feed myself. I left home in 2019 and from there I've been living with friends just so I could skateboard. When I started skateboarding, I was the only female among guys. I got a lot of comments in the street because of it but I didn't care because I was doing what I love."
Thank you Kayla for all you have done for women's skateboarding in Jamaica and congratulations on the award!
Help us do more!
Concrete Jungle Foundation is a non-profit organisation that builds skateparks and runs youth programmes for communities around the world.
Follow us on LinkedIn for blog updates on how the awards were spent by our winners.
If you'd like to follow what's going on in Jamaica, check out the cjf_jamaica Instagram account.
If you have the means to support our work, please consider joining our monthly donor programme today.
You can also get merchandise from our online shop. All profits go to maintaining the charity's operations over the world.
Thank you for helping us share the joy of skateboarding and supporting local communities!